Registration for Homecoming Weekend is now closed. You can still attend and pay at the registration table on Friday or at the door for all the events listed below, however, the Green Walkabout and Forest Walk are full and cannot accept additional registrations.
Homecoming is for Warren Wilson alumni. It's the same weekend as Family Weekend, but has some events specially designed for alumni (see schedule below). If you're a parent looking for Family Weekend Registration, click here.
Check out who is coming to Homecoming this year by clicking here!
Need to update your info? Click here.
Questions? Contact Alumni Relations at alumni@warren-wilson.edu or call 866-992-2586.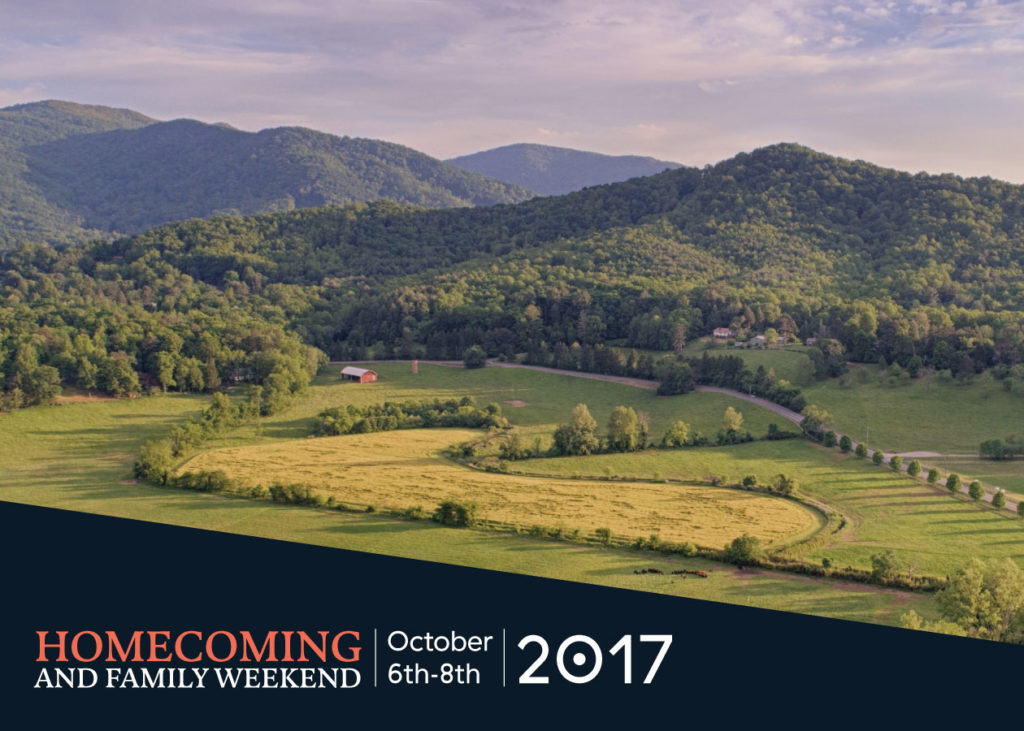 This year's highlights include the following events. Click for details and description:
Friday, October 6
Bannerman Scholarship Benefit Golf Tournament – 8:30 a.m.
BBQ Dinner, Music, and Bonfire – 5:00 p.m.
Athletics Hall of Fame – 6:30 p.m.
Saturday, October 7
Alumni Lunch and Awards Ceremony – 11:30 a.m.
Festival on the Field – 1:00 p.m.
Taste of Wilson Reunion Party – 6:00 p.m.
Full schedule:
Friday, October 6
Bannerman Scholarship Benefit Golf Tournament, 8:30 a.m.-2:30 p.m.
Have fun shooting a round of golf in support of scholarships! Registration fee includes breakfast, one mulligan and one red tee, greens fees, cart and lunch at the Black Mountain Golf Course. Please arrange your own transportation to the golf course for this event. Cost: $80 per player or $320 per team. 

Green Walkabout©, 10:00 a.m.
You're invited for a campus stroll to learn about sustainability technologies and practices WWC employs every day. The tour includes stops at the college farm, garden, recycling and composting operations. All tours start on the Orr Cottage Patio outside Admissions. The walkabouts will stick to campus roads and walkways, which are hilly. Wear comfortable shoes.

Garden Market, 11:00 a.m.-1:00 p.m.
Meander through the Garden Market in front of Gladfelter and see freshly harvested food from our Garden. You can purchase garden items and take a taste of Warren Wilson home with you.
Forest Walk, 1:00-3:00 p.m.
Take on our very own Warren Wilson College trails with forest director and professor of ecological forestry, Dave Ellum, Ph.D., and learn about some of the beauty that surrounds our campus. Be prepared for hills and rough terrain. Wear comfortable clothing and shoes.
Poetry and Fiction Reading   2:00 p.m.
Warren Wilson College's highly-regarded Master of Fine Arts Program, founded 41 years ago, was the first low-residency MFA in the country. The College's undergraduate Creative Writing department, originally developed by MFA alumna Ann Turkle, has continued to benefit from the renowned MFA Program through the program alumni appointed as the Joan Beebe Teaching Fellow, through MFA faculty who serve as visiting writers-in-residence, and through the Residency Class offered to a select group of undergraduate students each January.  We invite you to experience the writing side of Warren Wilson, featuring:
Debra Allbery: Program Director since 2009 and MFA faculty member since 1995
Gary Hawkins: WWC MFA 1995 and WWC Associate Dean
Rachel Himmelheber,  Undergraduate Creative Writing faculty, Fiction, and Department Chair
Catina Bacote, Undergraduate Creative Writing faculty, Nonfiction
Art Alumni Reception, 3:00-5:00 p.m.
Gather with art alumni and professors at Elizabeth Holden Gallery.

Natural Science Alumni Reception, 3:00-5:00 p.m.
Stop by the Ferguson Courtyard to visit with science alumni and professors.

LGBTQ+ Alumni Mixer, 3:00-5:00 p.m.
Connect with other members of the Greater Wilson LGBTQ+ Community.

The Kittredge Theatre Costume Collection Tour, 3:00-5:00 p.m.
Many alumni have never been below the stage to see the enormous collection of costumes and props. Bev Ohler, theater designer, is cataloguing the costumes before she retires and invites you to come by and see what you may have missed.

Teacher/Educator Mixer at WWC Homecoming, 3:30-5:00 p.m.
Connect with other alumni who are teachers and educators! All alumni are welcome to come by and learn about new directions for the education department at WWC, celebrate teachers and enjoy light refreshments! We're especially excited about the new teacher licensure partnership between Warren Wilson and UNC-Asheville.

Shabbat Social, 4:00-5:00 p.m.
The WWC Kehila Hillel and WWC Spiritual Life are hosting a Shabbat social from 4-5 pm before the dinner and bonfire at the Farm.  Kehila means "community" in hebrew and Hillel is a Jewish college student association. Bring in the Shabbat with sabbath songs, blessings, challah, and meeting new and old friends.  Share in the celebration of Sukkot (the Jewish holiday of harvest) with some local apples and honey tastings. We will then head down to the farm for dinner and celebrations with all. Shabbat Shalom!
Moon Festival, 4:00-6:00 p.m.
Join us for the Harvest Celebration traditionally the time rice matures and is harvested.  In the Chinese Lunar calendar, the 8th month full moon is at its roundest and brightest symbolizing togetherness and reunion in Chinese culture.  What better way to celebrate Homecoming and Family Weekend than sharing a meal together with our Warren Wilson family.  This event is free!
Cross Country Fighting Owls Invitational, 5:00-6:30 p.m.
Cheer on the Warren Wilson Cross Country Fighting Owls. Race will be at the
Dam Pasture Trail system.  Please park at Berea Baptist Church.
BBQ Dinner, Music, and Bonfire 5:00-8:30 p.m.
Head down to the Farm for our traditional feast of freshly smoked pulled pork or barbecued tofu. Local bands will provide lively entertainment and music for dancing. A bonfire will keep us warm as the sun sets and wagon rides are offered too, weather permitting. It's an event for the entire campus, so students, staff and faculty are invited to join in the fun. Food service from 5:00 – 6:30 p.m. Cost: Adults, $12; $15 day of event; Children 7-12, $6 Students & Children under 6, Free.
Athletics Hall of Fame Induction, 6:30 p.m.
The Warren Wilson College Athletics Hall of Fame induction ceremony will take place in DeVries Gymnasium (alumni basketball game to follow at approximately 8pm).

Men's Basketball vs. Alumni, 8 p.m.
Come see your first glimpse of the 2017-2018 edition of the Warren Wilson College men's basketball team. All alumni are invited to attend and participate.
Saturday, October 7
5K Fun Run, 8:00 a.m.
Enjoy a peaceful 3.1 mile run or walk around the Warren Wilson campus. Meet in front of DeVries Gym to register and take your mark. The course will be marked, and all ages and abilities are encouraged to participate.
Service of Remembrance, 9:30 a.m.-11 a.m.
Join us as we remember those who have gone before us in Warren Wilson College history. Gather outside the Chapel at 9:15 a.m. if you would like to ride the shuttle to the service. Otherwise meet at the Warren Wilson College Cemetery on Dillingham Circle at 9:30 a.m.
Alumni Lunch and Awards Ceremony, 11:30 a.m.-1:30 p.m.
Join your classmates for great food and fellowship in Canon Lounge. Each decade will have tables to gather together, from the GAR to the 2000's. At 12:30 p.m., we will honor our alumni award recipients and introduce new and current alumni board members. Space is limited and preregistration is required. Cost: $15.00
Alma Shippy Memorial Dedication, 2 p.m.
There will be a special recognition of Alma Shippy, the first black student ever admitted to an all-white private college in the South. It was a historic event occurring prior to the Brown vs. Board of Education decision of 1954
Festival on the Field, Noon-4:30 p.m.
Festival on the Field is a time to indulge in many of the great things Warren Wilson has to offer – sports, food, music, crafts, and fun! Head out to the soccer fields to enjoy an afternoon cheering on the WWC Soccer teams. Then peruse unique crafts by students and alumni artisans that are available for purchase. Or try delicious foods prepared by students, staff vendors and local food trucks. Also, Student Activities will have a free crafting tent for kids!
1:00 p.m.: Women's Soccer team plays Johnson & Wales University
3:00 p.m.: Men's Soccer team plays Crown College 
Warren Wilson Agriculture Happy Hour, 4-5:30 p.m.
The Agriculture department, including the WWC farm and garden, are looking to bring together alumni and current students to grow the network, strengthen connections and discuss new opportunities! Meet us just down the road at Pisgah Brewing Company for a pint of beer or cider and then consider heading over to the Taste of Wilson Dinner and Party at 6 pm in Bryson Gym. (Taste of Wilson
requires registration).
Social Work Alumni Reception, 4:30 p.m.
The social work department invites all its alumni to attend a reception at the Orr Cottage Patio.
President's Reception
Private donor event for 1894 Circle members, Bannerman Society members, and supporters of the College at the $1000+ giving level.
Taste of Wilson Reunion Party, 6:00 p.m.-10:00 p.m.
Whether it's been one year since you graduated or more than 40, come celebrate with your friends! We will be paying a special tribute to our milestone 10, 25, & 50th reunion years. Enjoy food and beverages from some of our beloved alumni. Come eat, drink and have a HOOT of a time! Located in Bryson Gym and the Formal Gardens. Cost: Adults, $25; Children 7-12, $12; Children under 6, free.
Sunday, October 8
Choir Rehearsal, Church Service, Potluck Dinner, 9:30 a.m.-1:00 p.m.
Join your classmates for song and worship followed by a potluck dinner sponsored by the congregation of the Warren Wilson Presbyterian Church at the College Chapel.
Brunch, 10:30 a.m.-1:00 p.m.
Brunch in Gladfelter will be available, pay at the door.