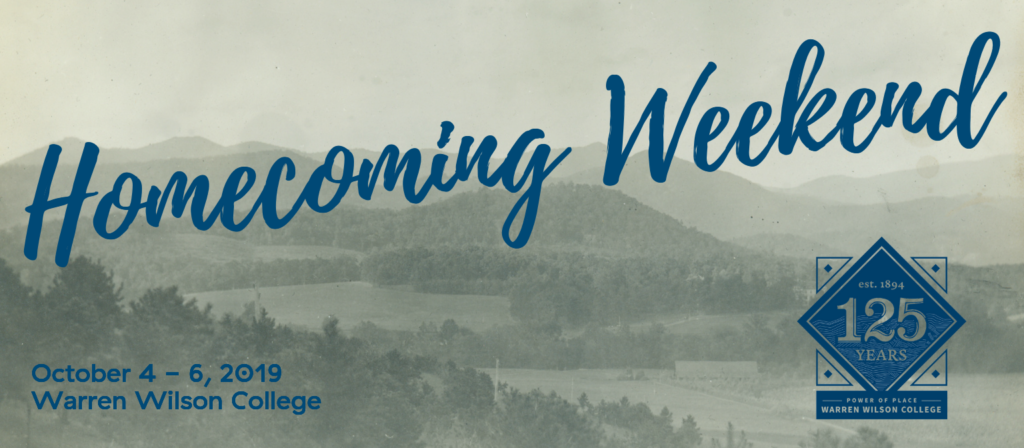 For 125 years, we've educated generations to lead lives of utility, meaning, service, and beauty – lives that matter. Join your fellow Warren Wilson College Alumni as we celebrate the College's 125th year at Homecoming 2019. 
This year's highlights: 
Friday, October 4
Bannerman Benefit Golf Tournament | 8:30 AM – 2:30 PM
Location: Asheville Municipal Golf Course. The location for the tournament lunch will no longer be Ransom Upper Fellowship Hall. Lunch will be served immediately following at the course.

Athletics Hall of Fame | 4:30 – 6:00 PM
BBQ Dinner, Music, and Bonfire | 5:00 – 8:30 PM
Saturday, October 5
Alumni Lunch and Awards Ceremony | 11:30 AM – 1:30 PM
New Saturday Evening Events:
All Alumni: 
Taste of Wilson Happy Hour | Formal Gardens, 4:00 – 6:45 PM 
Come eat, drink, and dance in the Formal Gardens with your fellow Owls to celebrate the College's 125th anniversary. 
Reunion-Year Alumni: 
A Thousand Stars Reunion Dinner | Boon Hall, 7:00 – 9:00 PM
If your class year ends with a 4 or 9, this is your reunion year! We'll toast each reunion class with dinner and drinks. All alumni are invited to enjoy the evening and celebrate these class years!
Class of 1969 50th Reunion | Boon Hall Second Floor, 4:00 pm – 6:45 pm
A private reception for the class of 1969 commemorating the College's first four-year class!
Class of 1959 60th Reunion | Boon Hall Second Floor, 4:00 pm – 6:45 pm
Gather with your 1959 classmates for this private reception.
Registration has closed, but if you have any questions please contact Erika Orman – 828.771.2092 or eorman@warren-wilson.edu. See you there!
Questions? Contact Alumni Relations at alumni@warren-wilson.edu or call 828-771-2052.
All future communication concerning Homecoming Weekend will be made via email. If you have not updated your email with us for a while, now is your chance! You can make this update now by contacting: Jill Doub, Database Manager at jdoub@warren-wilson.edu or 828-771-2052.