Thanks to everyone who came out to Homecoming 2018. Please save the date for Homecoming 2019, October 4-6.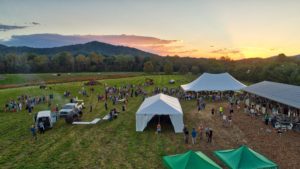 2018's highlights included the following events. Click for details and description:
Friday, October 5
Bannerman Scholarship Benefit Golf Tournament – 8:30 a.m.
Athletics Hall of Fame – 4:30 p.m.
BBQ Dinner, Music, and Bonfire – 5:00 p.m.
Saturday, October 6
Alumni Lunch and Awards Ceremony – 11:30 a.m.
Festival on the Field – 12:30 p.m.
Taste of Wilson Reunion Party – 5:00 p.m.
Questions? Contact Alumni Relations at alumni@warren-wilson.edu or call 866-992-2586.
All future communication concerning Homecoming and Family Weekend will be made via email. If you have not updated your email with us for awhile, now is your chance! You can make this update now by contacting: Jill Doub, Database Manager at 828-771-2052 or jdoub@warren-wilson.edu.
Full Schedule
Friday, October 5

Bannerman Scholarship Benefit Golf Tournament, 8:30 a.m.-2:30 p.m.
Have fun shooting a round of golf in support of scholarships! Registration fee includes breakfast, one mulligan and one red tee, greens fees, cart and lunch at the Black Mountain Golf Course. Please arrange your own transportation to the golf course for this event. Cost: $85 per player or $320 per team.

Green Walkabout, 10:00 – 11:30 a.m.
You're invited for a campus stroll to learn about sustainability technologies and practices WWC employs every day. The tour includes stops at the college farm, garden, recycling and composting operations. All tours start on the Orr Cottage Patio outside Admissions. The walkabouts will stick to campus roads and walkways, which are hilly. Wear comfortable shoes.

Garden Market, 11:00 a.m.-1:00 p.m.
Meander through the Garden Market in front of Gladfelter and see freshly harvested food from our Garden. You can purchase garden items and take a taste of Warren Wilson home with you.
Take on our very own Warren Wilson College trails with forest director and professor of ecological forestry, Dave Ellum, Ph.D., and learn about some of the beauty that surrounds our campus. Be prepared for hills and rough terrain. Wear comfortable clothing and shoes.

Poetry and Fiction Reading, 2:00 p.m.
Warren Wilson College's highly-regarded Master of Fine Arts Program, founded 41 years ago, was the first low-residency MFA in the country. The College's undergraduate Creative Writing department, originally developed by MFA alumna Ann Turkle, has continued to benefit from the renowned MFA Program through the program alumni appointed as the Joan Beebe Teaching Fellow, through MFA faculty who serve as visiting writers-in-residence, and through the Residency Class offered to a select group of undergraduate students each January.  We invite you to experience the writing side of Warren Wilson, featuring:

Debra Allbery: Program Director since 2009 and MFA faculty member since 1995

Gary Hawkins: WWC MFA 1995 and Director, Center for Faculty Innovation & Excellence

Rachel Himmelheber,  Undergraduate Creative Writing faculty, Fiction, and Department Chair

Art Alumni Reception, 3:00-5:00 p.m.
Gather with art alumni and professors at Elizabeth Holden Gallery.

Facilities Building (by the Auto Shop) 3:00-5:00 p.m. Facilities Building (by the Auto Shop)
Join student and staff members of Facilities Crews and discuss your work crew experience while at WWC. Share with current students how that experience has impacted life after Wilson and your career. You'll also get an opportunity to meet the new Director of Facilities Dave Merchan.

Outdoor Leadership Major Celebrates it 25th Year, 3:00-5:00 p.m at Mitchell House.
Come celebrate 25 years of Outdoor Leadership at WWC!  The Outdoor Leadership graduates made a difference here on campus and out in the world! Come tell your stories, share memories, and celebrate your contributions to the success of the program!

Natural Sciences Alumni Reception, Featuring a Celebration of 40 Years of the Environmental Studies Program, 3:00-5:00 p.m.
Stop by the Ferguson Courtyard (in front of the Morse Natural Science Building) to visit with science alumni and professors while also celebrating the 40th anniversary of the Environmental Studies Major at Warren Wilson College.

LGBTQ+ Alumni Mixer, 3:30-4:30 p.m. at CGR in Upper Vining C.
Connect with other members of the Greater Wilson LGBTQ+ Community

Teacher/Educator Mixer at WWC Homecoming, 3:30-5:00 p.m at Mitchell House .
Connect with other alumni who are teachers and educators! All alumni are welcome to come by and learn about new directions for the education department at WWC, celebrate teachers and enjoy light refreshments! We're especially excited about the new teacher licensure partnership between Warren Wilson and UNC-Asheville.

Athletics Hall of Fame Induction, 4:30-6:00 p.m. at Bryson Gym.
The Warren Wilson College Athletics Hall of Fame induction ceremony will take place at Bryson Gym this year and will celebrate the accomplishments of four players and coaches that helped lay the foundation for past and present athletic success. Inductees include Greg Overton '81, Diana Young-Paiva '80, Jerry Slaughter '75, and Tilton Bundy '40. Please register!

Multicultural Cafe, 3:30-5:00 p.m. at Ransom House.
Stop by for snacks and a celebration of multiculturalism on our campus and within our alumni community at Ransom House, the new home for International Programs, WIDE, and the Interfaith Office.

BBQ Dinner, Music, and Bonfire 5:00-8:30 p.m.
Head down to the Farm for our traditional feast of freshly smoked pulled pork or barbecued tofu. Local bands will provide lively entertainment and music for dancing. A bonfire will keep us warm as the sun sets and wagon rides are offered as well, weather permitting. It's an event for the entire campus, so students, staff and faculty are invited to join in the fun. Food service from 5:00 – 6:30 p.m. Cost: Adults, $12; $15 day of event; Children 7-12, $6 Students & Children under 6, Free.

Men's Basketball vs. Alumni, 7:30 p.m.
Come see your first glimpse of the 2018-2019 edition of the Warren Wilson College men's basketball team. All alumni are invited to attend and participate. Please Register!

Alumni Camping at The Fortune Property
Check-in between 2-4pm on Friday and between 2-4pm on Saturday; $20 per tent, per night. Limited facilities, but port-a-jons will be on-site. We just have room for about 20 tents, so register soon!
Saturday, October 6
Enjoy a peaceful 3.1 mile run or walk around the Warren Wilson campus. Meet in front of DeVries Gym to register and take your mark. The course will be marked, and all ages and abilities are encouraged to participate.

Service of Remembrance, 9:30 a.m.-11 a.m.
Join us as we remember those who have gone before us in Warren Wilson College history. Gather outside the Chapel at 9:15 a.m. if you would like to ride the shuttle to the service. Otherwise meet at the Warren Wilson College Cemetery on Dillingham Circle at 9:30 a.m.

Alumni Lunch and Awards Ceremony, 11:30 a.m.-1:30 p.m.
Join your classmates for great food and fellowship in Canon Lounge. Each decade will have tables to gather together, from the GAR to the 2000's. At 12:30 p.m., we will honor our alumni award recipients and introduce new and current alumni board members. Space is limited and pre-registration is required. Cost: $15.00

New Academic Building Tour, 1:30 p.m. – 2:15 p.m.
Tour our newest campus facility with Zanne Garland, VP for Advancement

Festival on the Field, 12:30 p.m. – 4:30 p.m.
Festival on the Field is a time to indulge in many of the great things Warren Wilson has to offer – sports, food, music, crafts, and fun! Head out to the soccer fields to enjoy an afternoon cheering on the WWC Soccer teams. Then peruse unique crafts by students and alumni artisans that are available for purchase. Or try delicious foods prepared by students, staff vendors and local food trucks. Also, Student Activities will have a free crafting tent for kids!

1:00 p.m: Women's Soccer team plays Hiawassee College

3:00 p.m.: Men's Soccer team plays Hiawassee College

Social Work Alumni Reception, 4:30-5:30 p.m.
The social work department invites all its alumni and Phi Alpha Inductees to attend a reception in the New Academic Building.

Taste of Wilson Reunion Party, 5:00 p.m.- 9:00 p.m.
Whether it's been one year since you graduated or more than 40, come celebrate with your friends! We will be paying a special tribute to our milestone 10, 25, & 50th reunion years. Enjoy food and beverages from some of our beloved alumni. Come eat, drink and have a HOOT of a time! Boogie down with the WWC Alumni All-star Band featuring Ram Mandelkorn '04, Juan Holladay '08 and Jesse Barry '15. Located in Bryson Gym and the Formal Gardens. Cost: Adults, $25; Children 7-12, $12; Children under 6, free.
Sunday, October 7

Choir Rehearsal, Church Service, Potluck Dinner, 9:30 a.m.-1:00 p.m.
Join your classmates for song and worship followed by a potluck dinner sponsored by the congregation of the Warren Wilson Presbyterian Church at the College Chapel.
Brunch in Gladfelter will be available, pay at the door.