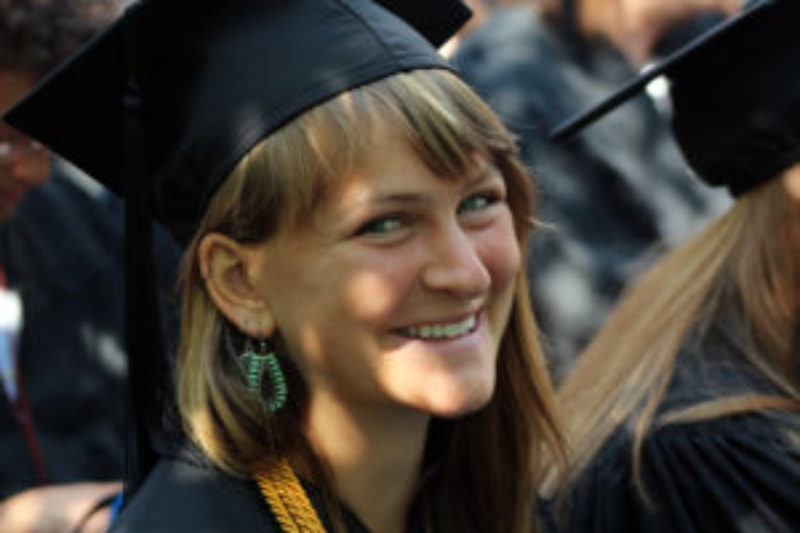 Warren Wilson College's 2017 spring semester dean's list features 120 students hailing from 27 states and six countries. Roughly 23 percent of undergraduates  on the list hail from North Carolina.
The list features students with a 3.75 grade-point average or higher. Students made the list from 17 majors. Those degree programs with the most representatives were environmental studies, art, sociology & anthropology and creative writing.
"The dean's list spotlights students who exhibit academic excellence by achieving the highest GPAs each term," said Paula Garrett, vice president for academic affairs and dean of Warren Wilson College. "These students are also earning credit for campus work and community engagement. When I see the names on this list, I know these undergraduates are not only dedicated to their studies, but they are going above and beyond."
Each semester, Garrett sends a signed card to each recognized student noting the dean's list commendation. Everyone on the list is treated to a reception organized by library faculty member Mei Mah. In addition to the GPA requirement, students must be enrolled full-time with no incomplete courses to be recognized.
Here are the 2017 Warren Wilson College Dean's List students for the spring semester:
| First | Last | City | State/Country | Major |
| --- | --- | --- | --- | --- |
| Georgia | Ackerman | Carbondale | CO | ENVIRONMENTAL STUDIES |
| Carly | Andrews | Fort Collins | CO | BIOLOGY |
| Anna | Aresco | Middletown | CT | ART |
| Cole | Aurichio | Branchburg | NJ | ENGLISH/CREATIVE WRITING |
| Leah | Bartel | Amelia | OH | BIOCHEMISTRY |
| Kerensa | Bartlett | Keene | NH | ART |
| Patrick | Bates | Newton | NC | HISTORY & POLITICAL SCIENCE/ ENGLISH/THEATRE |
| Michelle | Beers | Elkton | MD | SOCIAL WORK |
| David | Bellangue | Marietta | GA | ENVIRONMENTAL STUDIES/BIOLOGY |
| Effy | Blalock | Hendersonville | NC | |
| Shiloh | Bluttman | Indian Trail | NC | SOCIOLOGY & ANTHROPOLOGY |
| Tess | Bracher | Abingdon | VA | ART |
| Kira | Broadwell | Swannanoa | NC | PSYCHOLOGY |
| Aster | Brunsting Frazer | Memphis | TN | PSYCHOLOGY |
| Patrick | Burley | Chester | VA | ENGLISH |
| Rhys | Burns | Charlotte | NC | CHEMISTRY |
| Kimberly | Burns | Youngsville | NY | ENVIRONMENTAL STUDIES |
| Paloma | Burr | Princeton | NJ | BIOLOGY |
| Megan | Carey | Tucker | GA | GLOBAL STUDIES |
| Elsa | Cline | North Charleston | SC | ENVIRONMENTAL STUDIES |
| Nick | Colaiacomo | Enfield Center | NH | ART |
| Isabelle | Coppinger | Leverett | MA | ART |
| Caroline | Daniels | Palmyra | VA | ENGLISH/THEATRE |
| Isaac | Davis | Norwich | VT | SOCIOLOGY & ANTHROPOLOGY |
| Nirmal | de Alwis | Rathmalana Western | Sri Lanka | OUTDOOR LEADERSHIP/PSYCHOLOGY |
| Grant | DeNies | East Aurora | NY | OUTDOOR LEADERSHIP/MODERN LANGUAGE:SPANISH |
| Conor Patrick | Donahue | Takoma Park | MD | ENGLISH/THEATRE |
| Briana | Edwards | Tellico Plains | TN | ENVIRONMENTAL STUDIES |
| Chad | Fierros | Durham | NC | ENVIRONMENTAL STUDIES |
| Marley | Fischer | Mountain Rest | SC | PSYCHOLOGY |
| Emily | Fox | Orrtanna | PA | SOCIAL WORK |
| Caroline | Franklin | Palmetto Bay | FL | BIOLOGY |
| Jake | Garner | Goleta | CA | ENVIRONMENTAL STUDIES/SOCIOLOGY & ANTHROPOLOGY |
| Maia | Gawor-Sloane | Richmond | VT | ART |
| Andrew | Gibbons | South Orange | NJ | MODERN LANGUAGE:SPANISH |
| Hannah | Gibbons | Maplewood | NJ | ENVIRONMENTAL STUDIES |
| Stephen | Gifford-Bell | Sarasota | FL | CREATIVE WRITING |
| Jacob | Gillis | Verona | PA | SOCIAL WORK |
| Sydney | Grange | Burlingame | CA | ENVIRONMENTAL STUDIES |
| Abigail | Gregson | Siler City | NC | ENVIRONMENTAL STUDIES |
| Julia | Griffin | Riderwood | MD | SOCIOLOGY & ANTHROPOLOGY |
| Adam | Grimes | Columbus | IN | ENGLISH |
| Maureen | Grubb | Bar Harbor | ME | CREATIVE WRITING |
| Cecily | Gruener | Durham | NC | SOCIOLOGY & ANTHROPOLOGY |
| Rachel | Gunsch | Salisbury | NC | ART |
| Clare | Hardin | Derwood | MD | SOCIAL WORK |
| Debra | Hass | Asheville | NC | SOCIOLOGY & ANTHROPOLOGY |
| Benjamin | Hatch | Dublin | OH | BIOCHEMISTRY |
| Leah | Havlicek | Saint Paul | MN | GLOBAL STUDIES/MODERN LANGUAGE:SPANISH |
| Benjamin | Hayes | Gardiner | NY | ENVIRONMENTAL STUDIES |
| Fonda | Heenehan | Spartanburg | SC | HISTORY & POLITICAL SCIENCE/PHILOSOPHY |
| Molly | Howard | Daphne | AL | ENGLISH/CREATIVE WRITING |
| Anna | Keeva | Evanston | IL | SOCIOLOGY & ANTHROPOLOGY |
| James | Kitchens | Beaverdam | VA | BIOLOGY/CHEMISTRY |
| Rachel | Klein | Philadelphia | PA | CREATIVE WRITING/PHILOSOPHY |
| Morgan | Landis | Asheville | NC | ART |
| Jesse | Lauramore | Cape Coral | FL | CREATIVE WRITING |
| Emily | Lehman-Rios | Richmond | VA | PSYCHOLOGY |
| Jeremy | Lett | Arden | NC | HISTORY & POLITICAL SCIENCE |
| Louise | Liu | Shandong Province | China | |
| Melina | Lozano | San Antonio | TX | ART |
| Daniel | Lucas | Ithorots-Olhaiby | France | ENVIRONMENTAL STUDIES/CHEMISTRY |
| Brady | Lux | Sandpoint | ID | ENVIRONMENTAL STUDIES |
| Morgan | McConnell | Fort Collins | CO | SOCIOLOGY & ANTHROPOLOGY |
| Meg | McDonald | Nyack | NY | HISTORY & POLITICAL SCIENCE |
| Nico | Mokhiber | Berkeley Springs | WV | PSYCHOLOGY |
| Tess | Monty | Cedarburg | WI | ART |
| Solidity | Moore | Worcester | MA | ENVIRONMENTAL STUDIES/BIOLOGY |
| Sam | Morkal-Williams | Briarcliff Manor | NY | PHILOSOPHY |
| Lydia | Morrow | Hopewell | NJ | SOCIOLOGY & ANTHROPOLOGY |
| Lyla | Moseley | Olathe | KS | HISTORY & POLITICAL SCIENCE |
| Jimena | Novaro | Junin de los Andes, Neuquen | Argentina | CREATIVE WRITING |
| Michael | Nowak | Wallington | NJ | HISTORY & POLITICAL SCIENCE |
| Emily | Odgers | Northampton | MA | SOCIOLOGY & ANTHROPOLOGY |
| Kelly | O'Hara | Denville | NJ | ENVIRONMENTAL STUDIES |
| Maja | Olsson | West Point | VA | CREATIVE WRITING |
| Reid | Overton | Clarkesville | GA | ENVIRONMENTAL STUDIES |
| Cro | Owens | Pittsboro | NC | GLOBAL STUDIES |
| Cat | Paulson | Bunnlevel | NC | PSYCHOLOGY |
| LJ | Payne | Swannanoa | NC | ENGLISH |
| Kayla | Pekny | Wayne | IL | ENVIRONMENTAL STUDIES |
| Lucy | Petrick | Duluth | MN | ART |
| Jacob | Ratliff | Matthews | NC | ENGLISH/RELIGIOUS STUDIES |
| Kyle | Reinard | Gahanna | OH | OUTDOOR LEADERSHIP |
| Aspen | Reynolds | Rosenberg | TX | SOCIAL WORK |
| Benji | Robie | Durham | NC | PSYCHOLOGY |
| Sather | Robinson-Waters | Burnsville | NC | ART |
| Molly | Rochelson | Maryville | TN | SOCIOLOGY & ANTHROPOLOGY |
| Nicholas | Rust | Lawrenceville | GA | BIOCHEMISTRY/BIOLOGY |
| Cat | Salemi | Durham | NC | PSYCHOLOGY |
| Keaton | Scanlon | Coral Gables | FL | ENVIRONMENTAL STUDIES |
| Chandler | Scott-Smith | Lititz | PA | ENVIRONMENTAL STUDIES |
| Ryan | Segall | Weaverville | NC | HISTORY & POLITICAL SCIENCE/GLOBAL STUDIES |
| Rachel | Sexton | Arden | NC | GLOBAL STUDIES |
| Jada | Sheeler | Sarasota | FL | SOCIAL WORK |
| Kate | Shelledy | Atlanta | GA | GLOBAL STUDIES |
| Leah | Silverman | Brattleboro | VT | SOCIOLOGY & ANTHROPOLOGY |
| Corinna | Steinrueck | Harrisville | NH | ENVIRONMENTAL STUDIES |
| Aiden | Strickland | Greensboro | NC | CREATIVE WRITING |
| Micaela | Strickland | Greensboro | NC | ART |
| Jordana | Swartz | Philadelphia | PA | |
| Lucy | Tavernier | Athens | GA | SOCIAL WORK |
| Yue | Teng | Shandong Province | China | |
| Matthew | Tennant | Atlanta | GA | HISTORY & POLITICAL SCIENCE/CREATIVE WRITING |
| Leo | Thorbecke | Oakland | CA | SOCIAL WORK |
| Michael | Thorpe | Siler City | NC | HISTORY & POLITICAL SCIENCE |
| Bobby | Trice | Nevada City | CA | SOCIOLOGY & ANTHROPOLOGY/SOCIAL WORK |
| Keegan | Van Gorder | Boiling Springs | PA | SOCIOLOGY & ANTHROPOLOGY |
| India | Waller | Bayfield | CO | BIOCHEMISTRY |
| Margaret | Watts | Boulder | CO | |
| Alisha | Weaver | Asheville | NC | ENVIRONMENTAL STUDIES/BIOLOGY |
| Bella | Weeks | Sylva | NC | ENVIRONMENTAL STUDIES/OUTDOOR LEADERSHIP |
| Esme | Wessel | Acton | MA | |
| Natalie | Williams | Marietta | GA | ENVIRONMENTAL STUDIES |
| Vivian | Williamson | Morganton | NC | GLOBAL STUDIES |
| Darrin | Winston | Lexington | NC | CREATIVE WRITING |
| Wodi | Wodicka | Malverne | NY | ART |
| Brian | Wuertz | Asheville | NC | |
| Jakub | Zaborski | Belfast | Ireland | |
| DK | Zhang | ZhengZhou Henan | China | CHEMISTRY/MATHEMATICS |