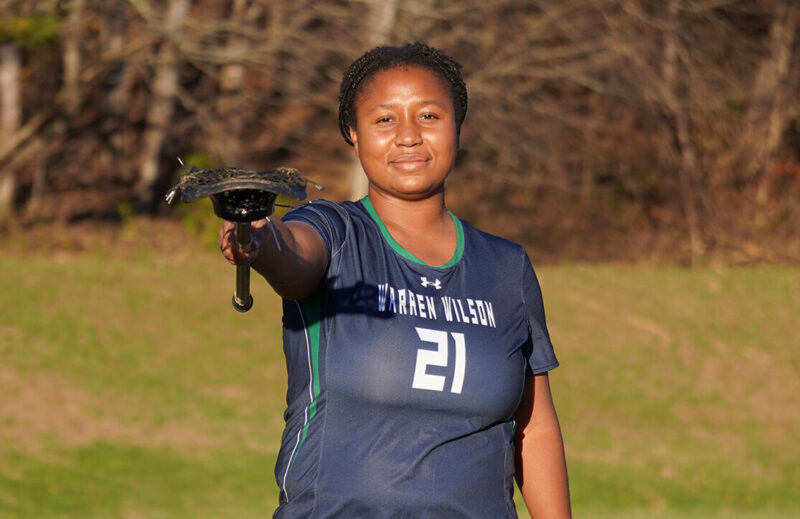 Madison Sings has received the Alton F. Pfaff Cup, Warren Wilson College's highest honor given to a graduating senior.
Sings recently graduated from Warren Wilson College with a double major in environmental studies with an environmental policy and justice concentration, and in history and political science with a public policy concentration. During her time at Warren Wilson, she built a strong and diverse academic record, advocated for environmental justice, played lacrosse and served in multiple leadership roles.
For her environmental policy and justice capstone project, Sings partnered with the town of Black Mountain to help introduce a stormwater utility fee credit for residents who implement green infrastructure on their property. She also completed a public policy capstone project where she collaborated with the Friends Committee on National Legislation to complete a case study on how interest groups influence the U.S. democratic system.
Sings' professors said she stood apart from other students because of her scholarly inquiry, inquisitive nature and deep comprehension skills.
"Madison's questions and comments quickly caught my attention and encouraged dialogue among the other students, which led to a lively class," said Dr. Daleah Goodwin, a professor and the chair of history, politics and economics at Warren Wilson. "I realized that not only did she have the ability to memorize historical dates and facts, but that she understood how to apply them within a larger social, political, and economic framework."
Sings advocated for environmental justice in a variety of ways. While serving on the environmental and social justice crew, she collected data for STARS (Sustainability Tracking Assessments and Rating Systems) around campus. The school received a GOLD rating because of these collection efforts. The crew also led a campus-wide campaign to register Warren Wilson students to vote in the primary and general elections, and they spearheaded the initiative to have President Lynn Morton, Ph.D. sign the Higher Education Carbon Pricing Endorsement Initiative. She was the first college president in North Carolina to do so.
Sings continued her advocacy work through the Advocacy Corps, where she mobilized students, faculty, staff and other community members in Western North Carolina to lobby on the Environmental Justice For All Act.
Through Sings' engagement on campus, she proved to be a valued and well-respected member of the Warren Wilson community, and she served in several leadership roles. She led the women's lacrosse team, served as a peer group leader for an environmental justice-themed first-year seminar, and she was an active participant in community engagement experiences. As a member of EPIC (Everyday People Imitating Christ), Sings led Bible studies and hosted game nights, movie nights and other themed events. She served as one of two students on the campus-wide Diversity, Equity, and Inclusion Advisory Committee, and she was a member of the Alma Mater Committee whose purpose was to remove colonizing language from the school's Alma Mater. Madison served as an auxiliary member of the Engage Mentorship Program in 2020 to 2021 and was a Resident Assistant for three semesters.
"I don't know how Madison does it," said Dr. Amy Knisley, professor of environmental policy and law at Warren Wilson. "How she's so methodical and grounded, in pursuit of far-off, far-flung dreams: of clean air, clean water and true justice for all. How she trusts her instincts about how to be and what to do, amidst gaslighting from all around. How with the tiniest lift of just one wry eyebrow, she can shift the whole room, and get a stuck conversation going. How she does 'all the things' that student-leaders can do at Warren Wilson, while also teaching Tae Kwon Do to kids in Black Mountain, lobbying for environmental justice in D.C., studying abroad in Finland on the eve of global pandemic, being there for friends and family in their hours of need and working through her own injuries and hard times."
After graduation, Sings traveled with Knisley and Dr. Liesl Erb to France for her second study abroad experience at Warren Wilson. She plans to continue her environmental justice work and said she would like to influence environmental policy working from inside the government, rather than lobbying from outside. She has been building contacts through the Warren Wilson alumni network with the Southeast Region of the U.S. Environmental Protection Agency (EPA), and she hopes to secure a job with their Environmental Justice unit after graduation.
Since 1942, the Alton F. Pfaff Cup has been awarded to a graduating senior who demonstrates integrity, common sense, a willingness to work, and a commitment to growth and progress. Pfaff was a 1929 graduate of the Asheville Farm School. He served as president of the Warren Wilson College Alumni Association and a member of the Board of Trustees. 
The Pfaff Cup is awarded to students who excel in all areas of the college's academic program: academics, work, community engagement and campus life. Nominations are solicited from the community and a committee of faculty and staff chooses a finalist to appear on a ballot given to all employees who vote for a winner. 
This year's Pfaff cup was made by Warren Wilson College Fine Woodworking instructor Ben Blackmar. It came from wood grown on campus. The trophy is made of Cherry and Black Walnut, and the bowl on top is made of Spalted Sycamore, which means that the tree creates a colorful marble pattern on the wood.