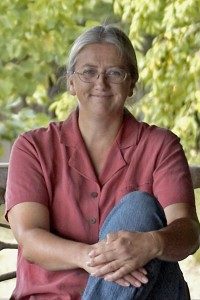 Laura Lengnick, Ph.D.
Ever wonder just how much a professor's sabbatical can contribute to a discipline's body of knowledge, or for that matter to society as a whole?
Consider the sabbatical of Laura Lengnick, Ph.D., Warren Wilson professor of sustainable agriculture and environmental studies, who spent the 2011-12 academic year as a visiting scientist on the National Program staff of the U.S. Department of Agriculture.
Lengnick's work is a major part of the report "Climate Change and U.S. Agriculture: Effects and Adaptation," the first USDA publication to address agricultural adaptation to climate change. One of the report's five lead authors, Lengnick herself is the lead author on the adaptation chapter in the report, which was mandated by Congress as technical input to the 3rd National Climate Assessment. See this recent article in The Atlantic.
The USDA report is expected to inform public policy development, research and technical development programs, technical advice and education programs on agricultural adaptation to climate change for at least the next five years. With the report's Feb. 5 release, Lengnick has had a whirlwind schedule in February.
On Feb. 8, Lengnick was the keynote speaker at a major conference in Pittsboro, N.C.  The day before, she appeared on N.C. Public Radio's "The State of Things." More recently, she was interviewed by David Hurand on WCQS-FM.
In mid February, Lengnick headed north for two events in Maryland. On Feb. 15, she gave a research seminar at the Sustainable Agriculture Speaker Series of the USDA-ARS Beltsville Agriculture Research Center. The talk was given to research scientists at the USDA's largest research station. The next day, Lengnick spoke at the winter meeting of the Maryland Organic Food and Farming Association.
To read more about Lengnick's work during her sabbatical, see P. 10 of the current issue of the Owl & Spade.