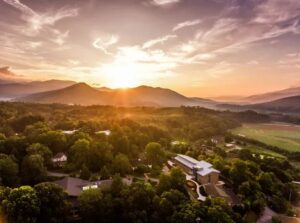 HOMECOMING 2022
Warren Wilson College welcomes you back to our beautiful campus this year for Homecoming! Mark your calendars for Friday, September 30 – Sunday, October 2. We look forward to seeing our alumni, friends, and family along with current staff, faculty, and students together again on campus for a weekend of festivities and fun!
We are committed to the health and safety of our community and are monitoring COVID trends as they progress. All Homecoming events are subject to change in response to evolving COVID conditions. WWC is following current CDC guidelines related to COVID-19 and we ask that you follow COVID protocols as set by the College. Please do not attend Homecoming if you are aware that you have COVID or another contagious illness.
Registration Details:
Coming Soon

Event Schedule: 
Time
Location
Description
Friday, September 30
Alumni Golf Tournament & Awards
8:30 am – 1 pm
Black Mountain Golf Course
Information & Registration
10 am – 3 pm
In front of Kittredge
There will be one-time registration fee of $5 per group.
Elizabeth Holden Gallery Art Exhibit
10 am – 4 pm
Holden Art Gallery
Stroll through the campus art gallery to see the exhibit Reside: Reflections from Township10. Township10 is an artistic residency that welcomes artists from around the country; offering them space and time to expand their practice in the mountains of Western North Carolina. Reside includes work from 19 previous Township10 residents, who create work in a variety of media and styles.
Service of Remembrance
1 pm – 2: 30 pm
WWC Cemetery on Dillingham Circle
Join us as we remember those who have gone before us in Warren Wilson College history. Gather outside the Chapel at 12:45 pm if you would like to ride the shuttle to the service. Otherwise, meet at the Warren Wilson College Cemetery on Dillingham Circle at 1:00 pm.
WIDE ACC/BSU/ISA/LSC Alumni Reception
1 pm- 3 pm
Ransom House
Warren Wilson College's Inclusion, Diversity, & Equity (WIDE) Office invites all alumni that were members of the WIDE Crew, Asian Culture Club, Black Student Union, Indigenous Student Association, LATINX(É) Student Collective, and other associated/affiliated organizations back to Ransom House to (Re) Connect with friends, former classmates, staff and faculty, and current student club members! Light food and refreshments available.
Farm Crew Alumni Reunion
2 pm – 4 pm
Farm Office
Join with current and former Farm Crew members to remember your days on the crew.
English Department Gathering
2 pm – 4 pm
Jensen Patio
Gather and wax poetic with fellow English alumni and faculty.
Alumni in Business Gathering
2 pm – 4 pm
Boon second floor
Calling all alumni working in business.  Regardless of whether or not you were a business major, we know Wilson grads are changing the landscape of work by owning and managing businesses in ways that are sustainable and just.  Join us for a time of networking with alumni in business, as well as, sharing stories with current students interested in business.
Bonner Leaders/Service Learning Crew Reunion
2 pm – 4 pm
Log Cabin
Were you a Bonner Leader or on Service Learning Crew? Stop by the Log Cabin to reconnect with former crew members from all generations!
Center for Experiential Learning Open House
2 pm – 4 pm
Log Cabin
All alumni are invited to the historic Log Cabin to see the new Center for Experiential Learning, which houses the Work Program, Community Engagement (formerly known as Service Learning Program), and Global Engagement. Come learn about the current work of these programs and crews and meet with staff and students!
Art Alumni Reception
2 pm – 4 pm
Holden
Join art alumni and professors at the Holden Gallery and take a gallery tour of the Township 10 exhibition with student curators and Art History Professor Julie Caro.
Queer Mingle: The Homecoming Edition
2 pm – 4 pm
Owl's Nest Patio
Dear alumni, dear students, come out to Owl's Nest Patio to connect with others during this queer mixer that includes icebreakers and snacks for queer alum and current students to connect! This event is open to all queer WWC alumni and current queer students looking to connect with queer elders!
Natural Science Alumni Reception
2 pm – 4 pm
Ferguson Courtyard
Stop by the Ferguson Courtyard (in front of the Morse Natural Science Building) to visit with science alumni and professors.
Student Athlete Reunion
2 pm – 3 pm
Canon Lounge
Join together with former WWC athletes immediately preceding the Athletics Hall of Fame Induction.
Athletics Hall of Fame Induction (streamed virtually)
3 pm- 4:30 pm
Canon Lounge
The Warren Wilson College Athletics Hall of Fame induction ceremony celebrates the accomplishments of four players that helped lay the foundation for past and present athletic success. Limited capacity. Pre-registration is required.
Social Work Alumni Reception and Phi Alpha Induction Ceremony
3:00-4:30 pm
Boon Patio (Boon 110 rain location)
Connect with Social Work Alumni and enjoy the Phi Alpha Honor Society Induction.
Remarks from President Bill Christy, start to wrap up/band wagon
6:30 PM
Homecoming Block Party & BBQ
4 pm – 6:45 pm
Central campus
You won't want to miss this year's highlight event: the Block Party and BBQ! We will enjoy our traditional feast of freshly smoked pulled pork or barbecued tofu together on main campus before the bonfire begins. Come enjoy live music and  merriment. It's an event for the entire campus – students, staff, and faculty are invited to join in the fun! Food service from 4:00-6:00 pm. Adults: $13 early bird, $15 day regular price /Children 6-12: $8/ Children 5 and under: free *Note: those who have not yet registered for Homecoming will be charged the one-time $5 registration fee per group when they purchase a BBQ ticket.
Young Alumni mixer at the Block Party
4 pm – 6:30 pm
Formal Gardens
The WWC Alumni Board invites alumni from the past 10 years for a special gathering during the Block Party and BBQ. We'll have giant Jenga, corn hole, and some of your beloved faculty and staff members for you to chat with. Come hang in the Formal Gardens and reconnect with fellow Owls!
"Parade" to the Farm
6:45 PM
Bonfire on the Farm
7:30 pm- 11 pm
Homecoming Field on Farm
Come get cozy by the fire while the sun sets on our valley home.
Ecstatic Dance
7:30-9:30
Pavilion
Facilitated by Professor Bob Swoap, we invite you to play, dance, get loose, ease your thinking cap, and enjoy free-expression and beautiful sound. Warmup at 7:30; opening circle and dance begin at 8, ending around 9:30.
Trivia
7:30-8:15 pm
Bryson Gym
How well do you know WWC? The whole family is welcome to this Student Activities-hosted Trivia Night event, featuring WWC trivia!
Movie Night: Top Gun- Maverick
8:30-10:45 pm
Bryson Gym
Student Activities welcomes you to a movie night featuring Top Gun: Maverick, which stars WWC alum Lewis Pullman '15.
Saturday, October 1
 
 
History Harvest Breakfast
8:30 am – 11 am (9 am talk, 9:30-11 individual time slots)
Boon Hall
WWC Global Studies Professor Jeffrey A. Keith, Ph.D invites you to learn about his sabbatical project of writing an updated institutional history for Warren Wilson College and your ability to take part in his process. After a brief presentation at 9:00am ET, you will have the opportunity to reserve a timeslot to record your own oral history (story) to be preserved in the WWC Archives. Physical donations to the WWC Archives are also welcome. Breakfast will be served.
Fall Fest & Working Lands Showcase
10 am – 1 pm
College Garden & Farm
Join us for a family fun event on the College's Working Lands (Farm, Garden, and Forest) with interactive activities, tours, and open houses from our land and craft crews! We will have craft demonstrations from the Blacksmithing, Fiber Arts, and Fine Woodworking Crews. The Free Store will be open, there will be meat and a few other limited WWC items will be available for sale. The plant-based Smokin' Onion food truck will have lunch items for purchase. Land tours and talks will take place on the following schedule: 10:30 am: Overview of land operations from Dr. Dave Ellum, Dean of Land Resources (location: Garden)
11:00 am: Garden tour (depart from Garden Cabin)
Forest tour (depart from Forestry Cabin)
Farm Pig and Crop tour (depart from Farm Office)
12:00 pm: Garden tour (depart from Garden Cabin)
Forest tour (depart from Forestry Cabin)
Farm Cattle and Sheep tour (depart from Farm Office)
Concert & Kittredge Recital Hall Dedication in Honor of Dr. Steven Williams
11:30 am- 1:00 pm
Kittredge Theatre/Recital Hall
Alumni from all generations will remember the late Dr. Steven Williams, longtime WWC professor and organist in the Warren Wilson Presbyterian Church. Following a concert in Kittredge Theatre by WWC alumni and friends, we will name the Kittredge Recital Hall in honor of Dr. Williams. Seating is limited; pre-registration is required.
Elizabeth Holden Gallery – Biennial Art Faculty Exhibition
1 pm – 4 pm
Holden Gallery
WWC Women's Soccer vs. Campbellsville Univ. – Harrodsburg
12-1:30 PM
Soccer Field
Hank Steinbrecher Soccer Complex Dedication Ceremony (streamed virtually)
1:45- 2:15 PM
Soccer Field
Made possible by the dedication of loyal alumni and other supporters, the Soccer Complex will be named for legendary coach Hank Steinbrecher between the Men's and Women's Soccer games. Coach Steinbrecher will be in attendance to be recognized.
WWC Men's Soccer vs. Johnson & Wales
2:30 PM- 4:00 pm
Soccer Field
Open Climb
3 pm – 5 pm
Bryson Gym
Outdoor Programs Crew will have the rock wall open for everyone to enjoy. Stop by and try it out!
A Thousand Stars Reunion Dinner & Alumni Awards Ceremony
5:00-7:30 pm (5-5:30 drinks & mingling, 5:30 release to buffet, 6 pm program starts)
Morris' Pavilion
Join your classmates for a formal celebration of our alumni community. We will honor our four alumni award winners, and toast our 10th, 25th, and 50th reunion classes. Drinks and mingling from 5:00-5:30 pm. Dinner and program begin at 5:30 pm. Seating is limited; pre-registration is required.
Sunday, October 2
 
 
 
Brunch
10:30 am – 1 pm
Gladfelter
Choir Rehearsal, Church, and Potluck
11 am – 1 pm
College Chapel
Refund Policy:
A full refund is available if you cancel no later than Friday, September 23, 2022. After that date your applicable registration fees will be directed to the WWC Fund as a tax-deductible donation.
For questions about Homecoming, please contact Erika Orman Callahan at eorman@warren-wilson.edu or (828) 771-2092.
Thank you to our 2022-2023 event sponsors. Click here to learn more about the many benefits we're offering sponsors this year!