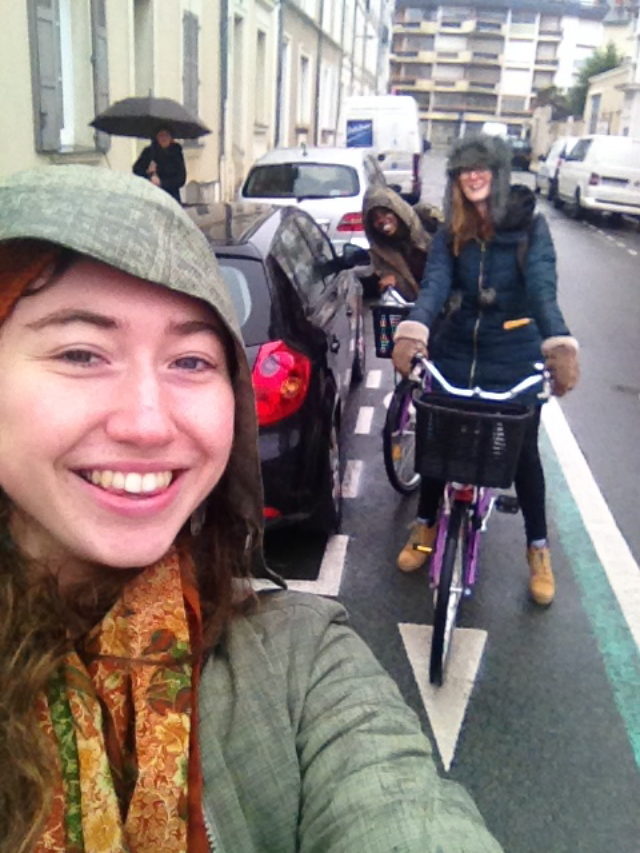 Warren Wilson College students Vladyslav Ladchuk '18, India Orman '16, Jada Sheeler '17 and Pearl-Lynnae Smith '17 are spending the spring 2016 semester overseas thanks to the prestigious Benjamin A. Gilman International Scholarship, sponsored by the U.S. Department of State's Bureau of Educational and Cultural Affairs. The four students are among roughly 800 American undergraduate students from 355 colleges and universities across the United States selected to receive the honor to study or intern abroad.
The Gilman scholarship is competitive, with only 25 percent of applicants receiving awards, and Warren Wilson College exceeded expectations with all candidates for the spring 2016 term receiving the honor.
"We are incredibly proud of our Gilman scholarship recipients, and it will be wonderful to welcome them back this fall and hear tales of their time in Japan, China and France," said Anna Welton, Warren Wilson College's director of international and intercultural opportunities. "It is critical that we overcome financial barriers by helping all students have equitable access to global experiences, and these four students have helped demonstrate that with a little resourcefulness, anything is possible."
Ladchuk, a sophomore from Sarasota, Florida, and Sheeler, a junior and fellow Sarasotan, are studying at Kansai Gaidai University in Japan. "In a kind of inexplicable way, I have always found myself drawn to the beauty of Japan," said Sheeler. "I have been trying to learn more and more about Japanese culture on my own for many years but have been dreaming of experiencing it myself for as long as I can remember. So, when I found out about the exchange program that Warren Wilson has with Kansai Gaidai University in Japan, I couldn't apply fast enough!"
In March, Smith, a junior from Baltimore, Maryland, will begin her semester across the sea at Liaocheng University in China. "Study abroad is important to me because it allows people the opportunity to experience a different cultural view of the self and others," Smith said. "China is a country of color that has most successfully resisted Western Imperialism. … As a person of color, I find the chance to immerse myself in the culture of a country that has succeeded in creating its own image intriguing. China, historically, stands as one of these countries."
Orman, a senior from Minneapolis, Minnesota, is spending the semester at the Université Catholique d'el Oeste in France learning the native language—French. "Study abroad is important to me because it gives me a greater sense of gratitude and humility," said Orman. "The interpersonal experiences I am having as I study abroad give me an alternative perspective on my own existence and how I influence the world. Looking at myself from an outsider's perspective, I am beginning to recognize the sheer privilege and power I have as a global citizen and American-educated youth."
Gilman Scholars receive up to $5,000 to apply toward their study abroad or internship program costs. The program aims to diversify the students who study and intern abroad as well as the countries and regions they visit. Scholarship recipients have the opportunity to gain an enhanced understanding of other cultures, countries, languages and economies—making them better prepared to assume leadership roles within government and the private sector.
"College is a time to test your limits and develop your identity intellectually, socially and spiritually," Welton added. "When students build a semester abroad into their college experience, I see this growth spike exponentially. Students return more curious, grounded, and with a bevy of skills that will launch them into meaningful career paths after graduation."
The Gilman scholarship bears the name of former U.S. Rep. Benjamin A. Gilman, who retired in 2002 after serving in the House of Representatives for 30 years and chairing the House Foreign Relations Committee.
"Study abroad is a special experience for every student who participates," said Gilman. "Living and learning in a vastly different environment of another nation not only exposes our students to alternate views, but also adds an enriching social and cultural experience. It also provides our students with the opportunity to return home with a deeper understanding of their place in the world, encouraging them to be a contributor, rather than a spectator in the international community."