Warren Wilson alumnus continues a campus tradition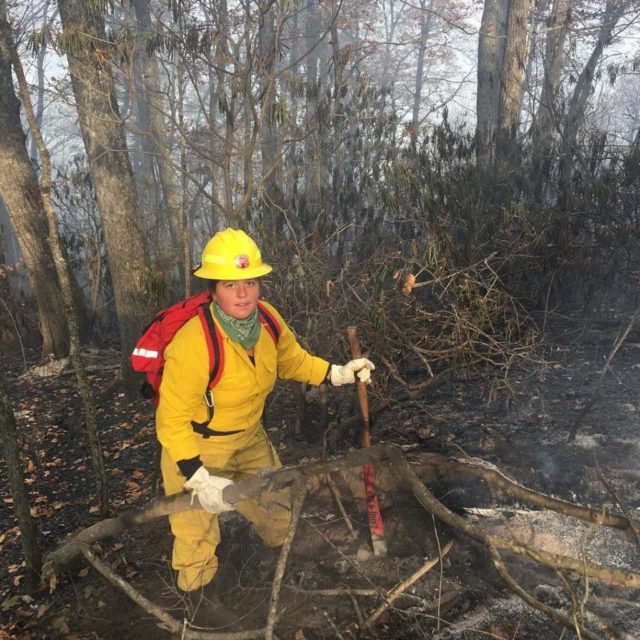 Last year, more than 88,000 acres of wildland burned in North Carolina. With the potential for property damage and an increased risk to life, many locals look to fire crews from the North Carolina Forest Service for help combating this ever growing threat. A former district ranger says continued protection comes in the form of trained forest firefighters.
Retired ranger Dave Walker trains dozens of people yearly for North Carolina Forest Service fire crews. Many of those new crewmembers are Warren Wilson College students.
"For more than 50 years, students at Warren Wilson College have been working for the North Carolina Forest Service in fire control," Walker said. "Many student firefighters have used this experience to secure a job."
Walker, a 1980 graduate of Warren Wilson College, remembers the first day he fought a forest fire.
"I was leaning up against a wall outside of Gladfelter Student Center at the College, and I heard this loud siren. Suddenly, a county ranger pulled up and asked me if I wanted to help fight a fire. It sounded like a good idea to me, so I jumped in the truck and headed to Black Mountain," he said.
Walker's experience that afternoon led him to a career fighting forest fires, but he was not the first Warren Wilson College student to take on the challenge. In fact, the Asheville Citizen-Times reported 40 students helped fight a fire in 1958 around the McKinney's Gap area of McDowell County. Recently, the College's forest manager, Shawn Swartz, and junior Melina Lozano battled a forest fire off Bee Tree Road.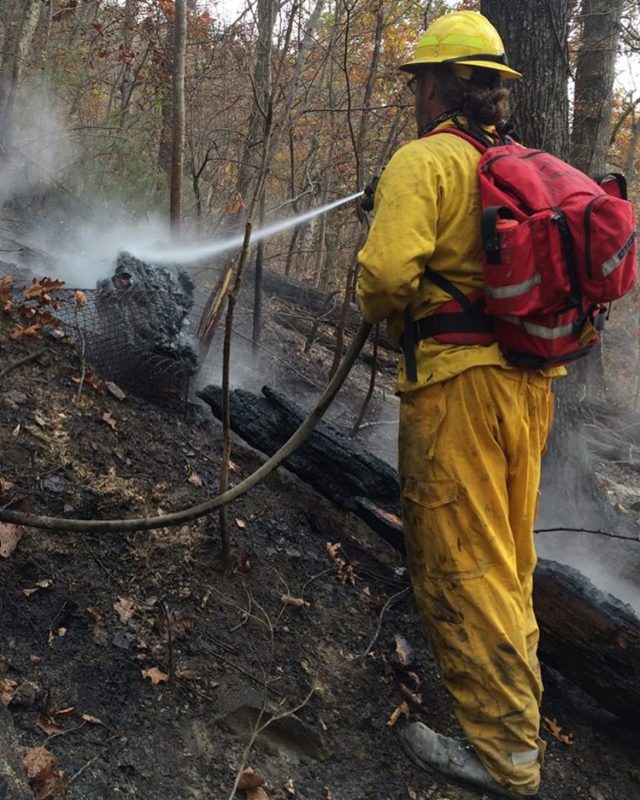 Through Asheville-Buncombe Technical Community College, Walker teaches the basic fire suppression courses, which are known as S-130 and S-190. The S-130 "Firefighter Training" and S-190 "Wildland Fire Behavior" courses are required for all North Carolina Forest Service personnel suppressing wildland fires. Walker wraps the L-180 "Human Factors on the Fireline" safety class into the training to cover situation awareness, risk mitigation and hazard reduction. These courses are for entry-level personnel with no previous fire experience.
Once certified, trained Warren Wilson College students are considered to be on call for the North Carolina Forest Service. Entry-level crewmembers earn roughly $11 per hour.
"Over the years I have seen many students develop into experienced, highly skilled firefighters. Because of their enthusiasm, motivation and attitude, Warren Wilson students are popular because they work hard, are willing to learn and can handle the physical pressures of the job," Walker added.
Swannanoa Fire Department hosts the next round of classes, and a minimum number of participants is required. The S-190 class is scheduled for Feb. 18-19, from 8 a.m. to 5:30 p.m. The S-130 and L-180 courses take place March 4-5, from 8 a.m. to 5:30 p.m. The class is open to current firefighters and Warren Wilson College students and alumni interested in working for the North Carolina Forest Service.
To register for the class, contact Walker at dlwalkabout@hotmail.com.
**Burned acreage data provided by the National Interagency Fire Center.