"Night at the Autoshop" features lessons on vehicle repair, maintenance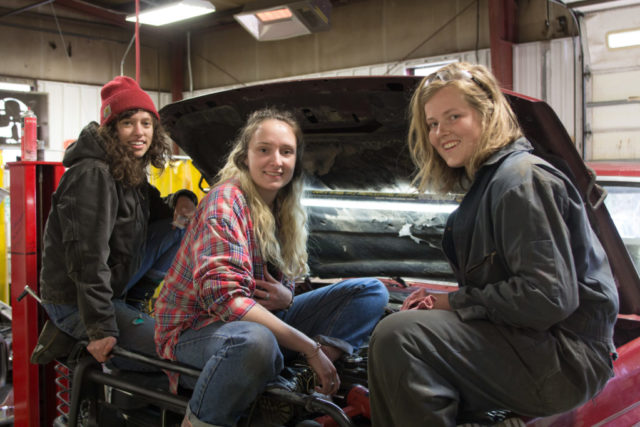 Marisa Tomei captured the Academy Award for Best Supporting Actress in 1993. Tomei won for her performance as a former mechanic and automobile expert in the movie, "My Cousin Vinny." A woman in that position is rare in film and real life. That worries three Warren Wilson College students. Together, they are on a mission to help their fellow female, transgender and non-binary classmates and staff and faculty members learn how to repair and maintain their cars.
"I didn't have a lot of experience when I first joined Autoshop Crew," said senior Savannah Livengood. "I saw there was a need for this because the campus facilities department is so male-dominated. There aren't a lot of opportunities for women and non-binary and transgender folks to explore these kinds of things. It's important for these people to have this space to learn without being judged."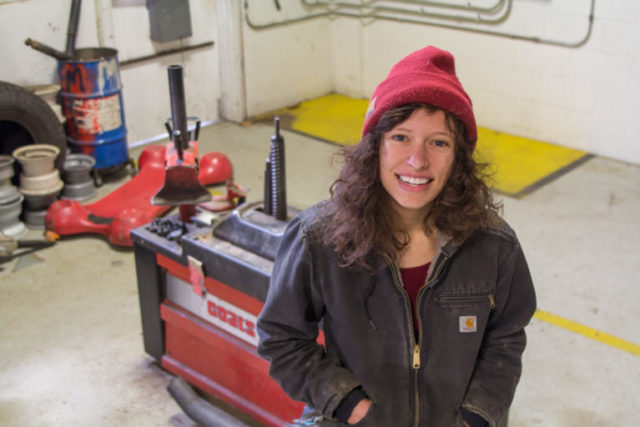 While research is limited, Livengood's assessment is supported by some data. The U.S. Department of Labor reports women make up 1.2 percent of "automotive and service technicians and mechanics" across the country. A 2014 survey of 2,000 people reported by the website Insurance.com claims less than 50 percent of women have changed a tire. Roughly 15 percent of women surveyed said they did not know how to check tire pressures or oil compared to 4 percent of men. The lack of knowledge jumps to 26 percent when it comes to women who cannot jump-start a car, according to the website.
Armed with this understanding, Livengood decided she wanted to host a workshop to help particular groups of people learn how to take care of their cars. But she could never get anyone to help her plan the event. New student members of the Autoshop Crew, which maintains campus vehicles, jumped at the idea in spring 2017.
"It is frustrating because it's such a basic safety issue," said Charlotte Surface, a sophomore social workmajor. "We live in a vehicle driven world, and a huge percentage of our population isn't given the skills to take care of themselves, to take care of cars or to keep themselves safe, knowledgeable and independent. That is a real problem."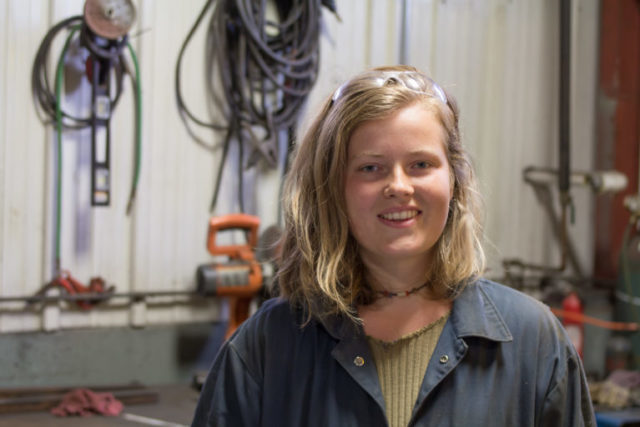 Along with sophomore Corinna Steinrueck, Livengood and Surface created "Night at the Autoshop." The mid-April event gives women, transgender and non-binary students and staff and faculty members the chance to "learn emergency roadside repairs," which includes changing a tire and jump-starting batteries. Other basic maintenance – oil changes, checking fluid levels, replacing lights – are also being taught.
Livengood's degree is focused on environmental education. She believes the real way to empower people and communities is to share knowledge. This workshop is an extension of her academic work as she hopes it will help her fellow campus community members gain experience and learn new skills they can share with others.
"I have helped so many friends with car problems since I started at the autoshop. I have also had to work on my car, which included some massive repairs. That feeling of empowerment and the continued request for help made me realize the idea for this event was a good one," Livengood said.
Surface and Livengood both credit Janson Bowman, who manages Warren Wilson College's Motor Fleet and the Autoshop, with teaching them everything they know. His mentorship and instruction helped them gain the confidence to create "Night at the Autoshop."
"This is my third semester on the Autoshop Crew. Last semester, I replaced an intake manifold by myself. Once I was finished with that project, I realized that anybody could do this kind of work as long as they can get to the information. There is nothing anyone has over anyone else except for access. That's why this event is so important. Everybody can work on their own car," said Surface.
While Bowman opened the door to the information and taught the crew how to do the work, he does not have an official role in the "Night at the Autoshop" event.
"Janson is an incredibly rare resource. Even when he is in the middle of a project, he will stop and help us understand something. We cannot say enough good things about him. He told us he would do whatever we needed him to do for this event. His gift was stepping out of the way to let us do it," Surface added.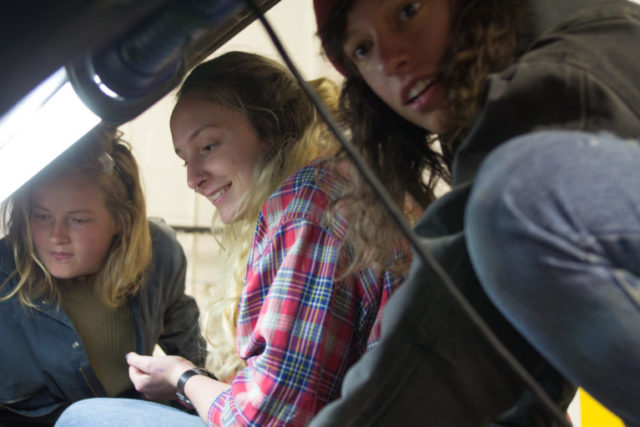 In the film, Tomei's character is put on the witness stand as an expert in "general automotive knowledge." Despite a litany of qualifying experience – tuneups, oil changes, engine and transmission rebuilds – a suspicious prosecutor asks outlandish questions to prove she could never be an expert in auto mechanics. Nevertheless, the character demonstrates expertise, embarrassing the prosecutor along the way, and saves two innocent people from a guilty verdict. The doubts harbored by the prosecutor are familiar to Surface and Livengood, but now they are the experts in the room.
"It never fails," said Surface. "If I pop the hood at a gas station, a man will come over to me and ask if I need help. My answer now is 'no.' I'm a mechanic. They seem to think I don't know anything, but I probably know more than they do. It's incredibly gratifying. I want to give that same feeling to my friends through this event."
"A Night at the Autoshop" is slated for Wednesday, April 12, at 5:30 p.m. For more information, call 828-771-5890.