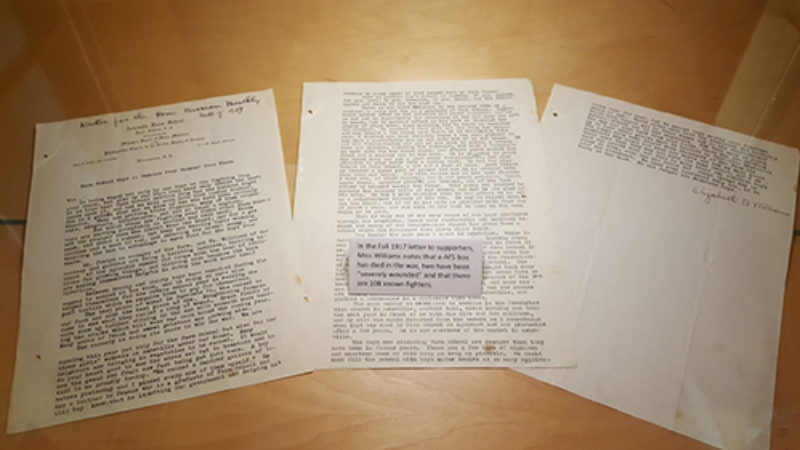 Warren Wilson College's spring semester ends before Memorial Day. The campus recognizes military service earlier in May before undergraduates leave campus for the summer.
This year, to honor students and alumni who served, the College Archives created a special exhibit dedicated to World War I. The display in the Pew Learning Center and Ellison Library featured letters about alumni fighting in the Great War. The notes were written by English teacher Elizabeth Williams.
"On April 6, 1917, the United States declared its intent to enter the war in Europe," said Diana Sanderson, the College's archivist. "In the following six months, there was a tremendous and immediate ramping up of men and supplies for such an undertaking. The alumni of the Asheville Farm School, as the College was once known, answered the call. We don't know exactly how many joined the American Expeditionary Force (AEF), but through research in the Archives, we have found over 130 names and about 35 photographs of these alums."
Sanderson also took the opportunity to showcase a unique item.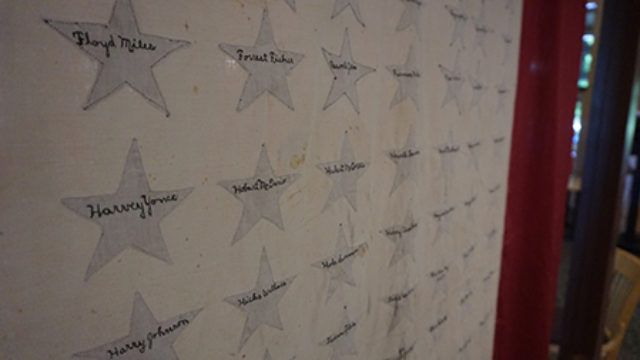 "One of the most interesting artifacts is the service flag. On it is recorded 126 names of alumni who served in the AEF, the Student Army Training Corps, the YMCA and other capacities," Sanderson added.
The service flag hung in the library May 3. Sanderson believes this was likely the first time the flag has been displayed since 1918.
To inquire about any of the World War I materials related to the Asheville Farm School, contact the Warren Wilson College Arthur S. Link Archives at (828) 771-3055. The archives are open by appointment throughout the summer.