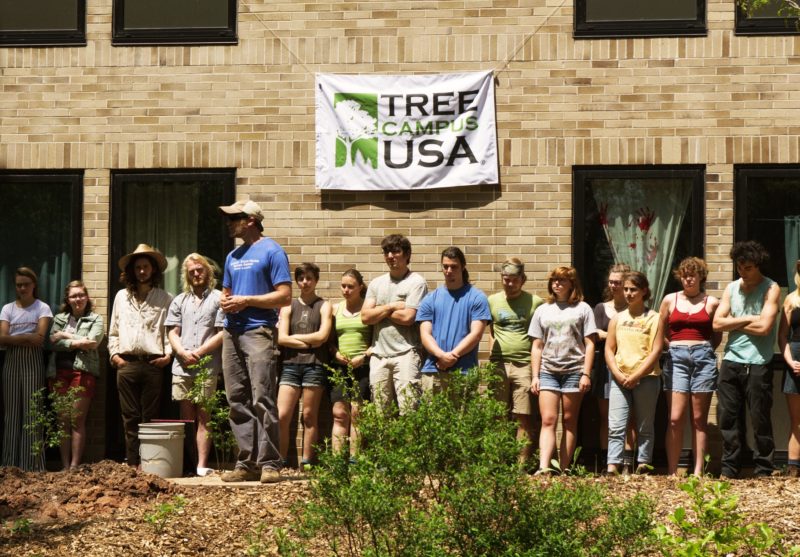 For the second consecutive year, Warren Wilson College is an Arbor Day Foundation "Tree Campus USA." The recognition denotes a continued commitment to effective urban forest management within the boundaries of central campus.
Warren Wilson College achieved the title by meeting "Tree Campus USA's" five standards, including maintaining a tree advisory committee, a campus tree-care plan, dedicated annual expenditures for the campus tree program, an Arbor Day observance and a student service-learning project. Currently, there are 296 "Tree Campuses" across the United States.
"This award encourages management of urban trees for a healthy, sustainable urban forest that reduces energy costs and consumption, builds strong community ties and honors the community," said Dillon Michael, Buncombe County ranger with the North Carolina Forest Service. "The campus program thrives because of the combined dedication of the tree advisory committee members, the campus staff and all members of the community who take pride in the quality of life at Warren Wilson College."
Dillon presented the "Tree Campus USA" award to the campus landscaping crew at a celebration in the Jensen Humanities and Social Science Center garden. The event was also planned to honor the 20-year career of retiring Landscaping Supervisor Tom La Muraglia. A tree was planted in La Muraglia's honor, which is in unity with a tradition typically reserved for graduating student Landscaping Crew members.
John Odell, who will succeed La Muraglia as Landscaping Crew supervisor in July, said the award and the planting ceremony worked well together.
"The 'Tree Campus' program has been a goal of Tom's for several years," Odell revealed. "He's felt strongly about emphasizing the education of the natural world to the students and the community of this College. He's created research opportunities and worked to provide a living laboratory for faculty and students. Since we have achieved this designation for the second yearunder his leadership, it just seemed like an appropriate event to plant a tree for Tom and celebrate 'Tree Campus' at the same time."
Senior Maureen Grubb felt the ceremony was a perfect tribute to her longtime crew leader.
"There wouldn't be a way to separate the two celebrations even if we tried," Grubb said. "Tom lives on through trees and in trees. A big part of being a 'Tree Campus' is investing in our land and our community, and I think Tom's leadership is the best example of that practice. That man made me a better person."
"Tree Campus USA" is a national program created in 2008 by the Arbor Day Foundation. It honors colleges and universities for effective urban forest management on campus and engaging staff and students in conservation goals. The College's central campus, which is considered an urban environment due to the population density, is home to nearly 10,000 trees. While not part of this designation, Warren Wilson College also owns and manages a 625-acre forest.
In addition to the planting of a tree in honor of La Muraglia and the celebration of the "Tree Campus USA" designation, the Landscaping Crew also memorialized a campus legend. Philosophy professor John Casey died in February, and his wife felt a tree planted outside of his office window was a fitting tribute. Along with La Muraglia, who was a friend of the philosopher, Rebecca Casey scattered what remained of her husband's ashes in the hole before planting commenced.
"This tradition is so much a part of what Warren Wilson stands for with the environment and with the trees," Rebecca Casey said. "I'm very happy to be part of it. John deserves a place here of permanence. Anybody looking out the window will be able to see this tree. It's forever more."
To learn more about professor John Casey, visit https://warren-wilson.edu/news/john-casey-remembered-for-wit-intellect.
For more information about Tom La Muraglia, who is retiring after 20 years at Warren Wilson College, visit http://warren-wilson.edu/news/longtime-warren-wilson-college-crew-supervisor-announces-retirement.
Details about the Arbor Day Foundation's "Tree Campus USA" are available at http://arborday.org/TreeCampusUSA.