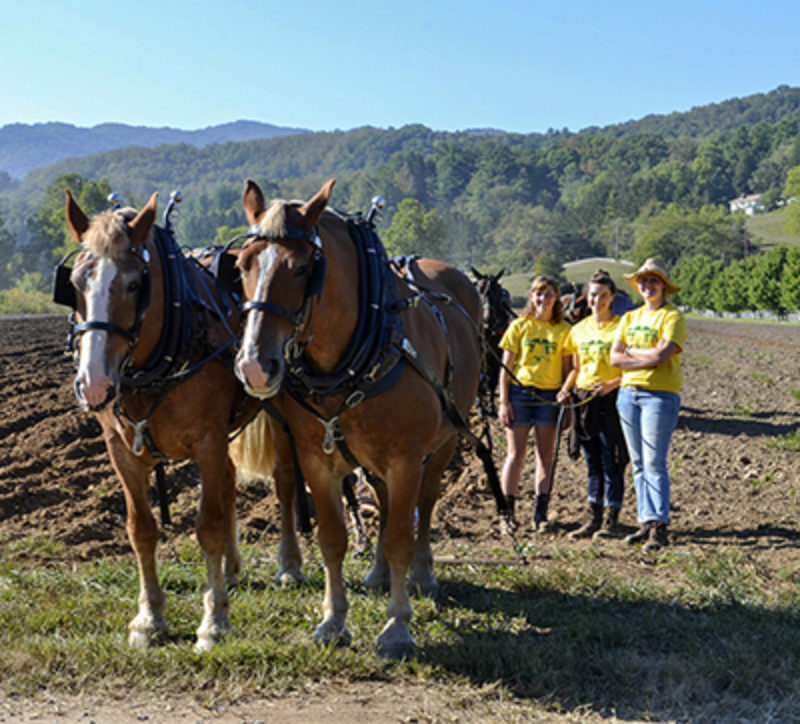 What comes to mind when the word "plowing" is uttered in reference to a garden or a field? Is it a tractor or a motorized tiller? Those more modern farming tools are found at Warren Wilson College, but they are not the go-to for the school's undergraduates on the garden and horse crews. They all prefer to work with Doc and Dan – the College's Belgian draft horses – instead.
"There's been a nationwide resurgence in working with draft animals, from young people interested in renewable energy, developing living production systems and working in partnership with these gentle, powerful creatures," said Mary Bulan, Warren Wilson College's director of Sustainable Agriculture Programs and professor of environmental studies. "Horses were one of the first domesticated animals, and our annual Plow Day shows they are still a modern alternative in agriculture."
Each year, the two geldings and local teamsters from the surrounding area take center stage for Warren Wilson College's Plow Day. Set for Saturday, Sept. 9, 2017, from 9 a.m. to 4 p.m., the 18th annual Plow Day celebrates agriculture and the tradition of draft power.
"Plow Day is getting revitalized this year," said Ben Mackie, the College's garden manager. "Bring the family for a day filled with nostalgia and learn about modern-day uses for this important agricultural method. We're really excited to showcase our craft crews – fiber arts and blacksmith – and create opportunities to build community through cake walks, cider pressings and other activities."
Plow Day is planned by Warren Wilson College Horse Crew members, including senior Anna Murabito.
"Community members from the College and beyond are all working hard to assist us in preparing for our 18th annual Plow Day," said Murabito, a history & political science major. "As always, the plowing and showcasing of draft power will be the primary focus of the day. However, we are introducing a host of new aspects to this event, so that there will truly be a little something for everyone."
For 2017, Warren Wilson College is partnering with the Swannanoa Valley Museum & History Center (SVMHC) to create even more fun opportunities at Plow Day. Set to a soundtrack of old-time music, Plow Day will give children the chance to connect with farm animals and learn about the Asheville Farm School – Warren Wilson College's predecessor.
"We're excited to help present historical crafts for children and families and interpret the history of Warren Wilson College and the surrounding land," said Katherine Cutshall, SVMHC's assistant director. "Events like Plow Day allow the public to put their hands on history and experience the past in a whole new way. Looking at a photo of a man plowing a field can evoke a totally different set of feelings than experiencing it firsthand."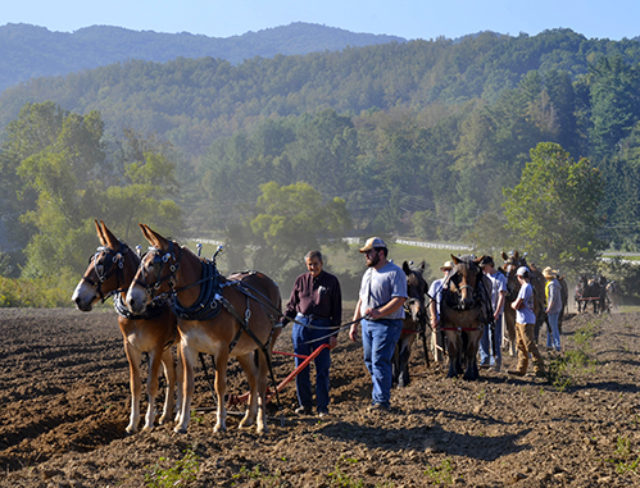 The event also gives students the chance to exhibit the educational components provided through the College's Horse Crew and its intersection with the academic program. Murabito says her time working with the crew taught her that horses like Doc and Dan play a vital role in modern agriculture.
"Often times, folks will write off using draft power in a contemporary context without realizing all the benefits it can bring. In the right setting, utilizing animals as a power source can prove to be advantageous for small-scale farming operations. Draft power is sustainable. It is environmentally friendly. And, if planned correctly, it can be cost-effective," Murabito added.
"But, honestly, I believe the benefits of utilizing draft power extend beyond these quantifiable benefits. Choosing to use draft power in modern agriculture is a very intentional decision, and it certainly requires a great deal of patience and commitment. Working with Doc and Dan has taught me so many invaluable lessons both related to farming and life that a tractor simply could not."
Admission to Plow Day is $3. Children under 5 and Warren Wilson College students, staff and faculty get in free. For more information, contact the Warren Wilson College Horse Crew at horsecrew@warren-wilson.edu or visit Horse Crew on Facebook at https://www.facebook.com/wwchorsecrew.