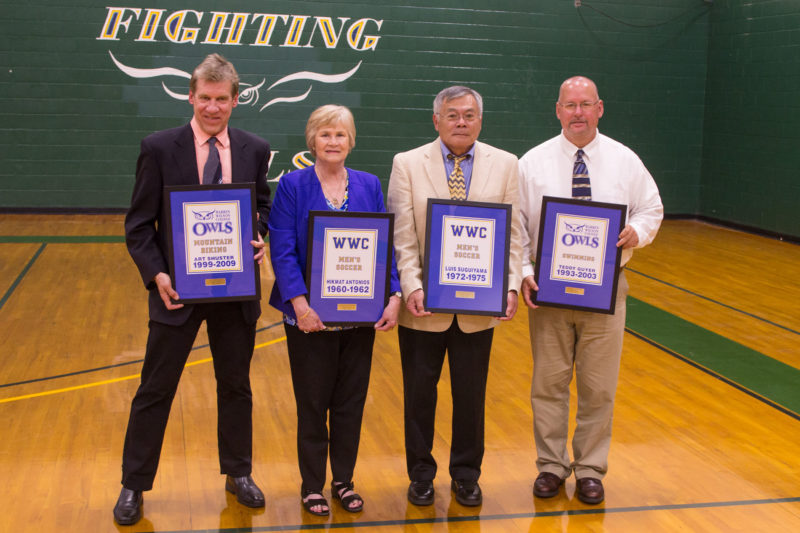 Asheville, NC – Oct. 16, 2017 – Art Shuster was an elite road cyclist and a U.S. Army veteran when he arrived at Warren Wilson College in 1982. He found the school by accident after bicycling the entire Blue Ridge Parkway. With his friend and fellow alumnus David Wilcox by his side, he came to Warren Wilson College in search of music and found an education in the process. That trip eventually led Shuster to a degree, a career and a stint as a hall of fame coach.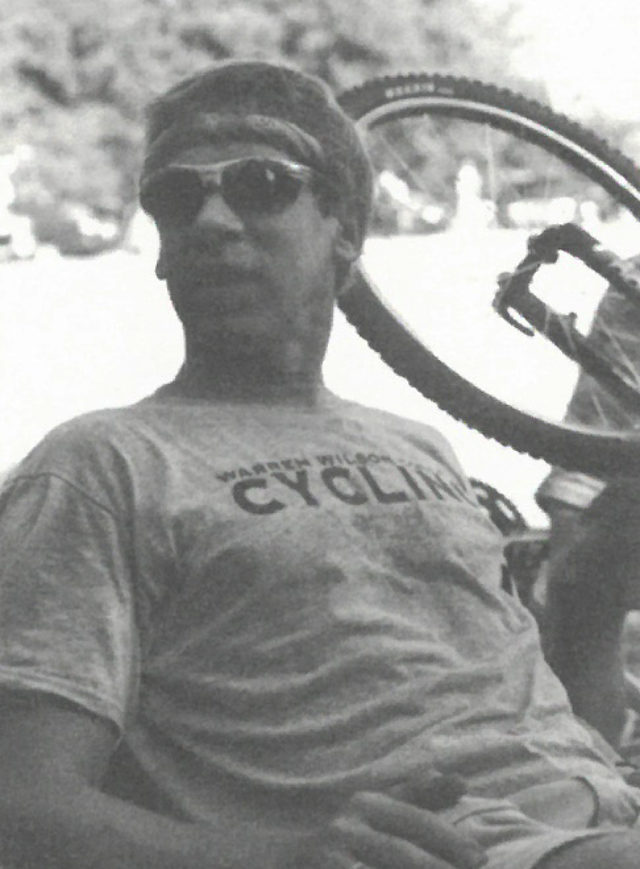 In 1999, Shuster agreed to become the first coach for the College's newest varsity coed sport – cycling. The program has since crowned six individual national collegiate cycling champions and collected the 2016 national championship in mountain biking. It also helped Warren Wilson establish itself as one of the destinations for bikers across the country.
"This is possibly the greatest honor of my life," Shuster said Oct. 6 during the Warren Wilson College Athletics Hall of Fame ceremony. "Like a lot of formidable things, the amazing bike team didn't just spring forth; it was built on the foundation of other people's shoulders."
The Warren Wilson College Cycling Team started as a club sport in 1998. Three years later, the program moved to the varsity level with nine men and two women. Alumnus Adam Ray was the first varsity team captain.
"When I was first approached about starting the bike team, I had to consider diverting from my original life dream of having a counseling practice in Asheville. I spoke to my mentor, John Griffth (Warren Wilson College's Electric Crew supervisor). … He told me that while it had its ups and downs, working with Warren Wilson students had been the best thing he'd ever been a part of," Shuster said as he fought back tears.
Griffith's perspective was enough for Shuster. In addition to forming the D-II mountain bike program, Shuster closed his private counseling practice to work exclusively for the College. Despite retiring as the bike team's head coach in 2009, Shuster continues to serve as director of the College's Counseling Center.
In addition to Shuster's induction with the class of 2017, the 2016 Mountain Bike Team was named the 2017 Team of Excellence. The Team of Excellence program recognizes the extraordinary efforts and achievements of Warren Wilson College teams, athletes, coaches and contributors. The intent is to honor both the achievement and the contributions required to succeed at a high level while reinforcing a sense of history and tradition for the athletic program and the school.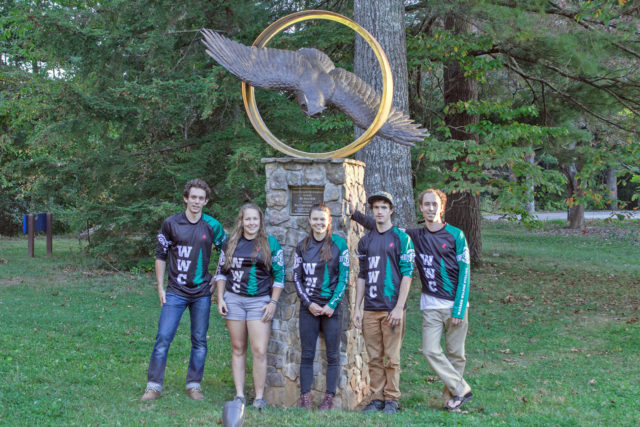 The Mountain Bike Team received the accolade for earning the program's first national championship under the leadership of one of Shuster's former cyclists, Matt Williams. In addition to Williams, coaches Nina Otter and Allison Jones were recognized with the team. The 2016 team includes student cyclists India Waller, Sophie Allen, Paul Wright, Phin Worthington, Trevor McDonald, Harris Wagner and Miron Golfman.
The Warren Wilson College Athletics Hall of Fame inducted four people this year. Along with Shuster, founding swim coach Teddy Guyer and star soccer players Luis Suguiyama and Hikmat Rasheed Antonios were honored. The inductees are highly valued members of the College community and have nurtured stories of service and excellence through Warren Wilson athletics.
The 2017 Warren Wilson College Athletics Hall of Fame inductees:
Hikmat Antonios
A two-time All-American, Antonios represented Warren Wilson Junior College on the soccer field from 1960-62. In his first year on campus, Antonios was named to the varsity team, which finished with a 10-0-1 record. Antonios was named a co-captain and the starting inside-left in 1961. That year, he stood out for scoring four of five goals in a win against King College. The team was ranked No. 1 nationally in the junior college poll, and Antonios earned a spot on the All-American First Team.
Teddy Guyer
Guyer, who is currently the swim team coach at Mars Hill University, founded the Warren Wilson College team in 1993. During his 10-year run as coach at Warren Wilson, he amassed 146 wins and 36 losses. His tenure produced 39 all-conference swimmers, three undefeated seasons and a conference championship. The team is now led by one of his former Mars Hill swimmers – Elle Grier.
Luis Fumio Suguiyama
A forward and defender on the Warren Wilson College Soccer Team from 1972-75, Suguiyama was a star athlete. His accolades include the 1975 NAIA District 6 Most Valuable Player, the NAIA 1975 All-America team selection, and the 1974-75 All-South selection. He was also named the Most Valuable Player of the 1975 NAIA District 6 Championship Team. Suguiyama and his teammates formed a nucleus that racked up an impressive 55-22-6 record during their years together.
Now in its fourth year, the Warren Wilson College Athletics Hall of Fame is led by a committee of alumni and staff. For 2017, the committee members included head men's basketball coach Anthony Barringer, alumnus Tim Deuitch, former athletic director Stacey Enos, alumni relations manager Jay Lively, alumni ambassador Rodney Lytle, alumnus Mike Nix, archivist Diana Sanderson and head cycling coach Matt Williams.
For more information about the Warren Wilson College Athletics Hall of Fame or to contribute to the Hall of Fame Endowment, email Lively at alumni@warren-wilson.edu or call (828) 771-8732.