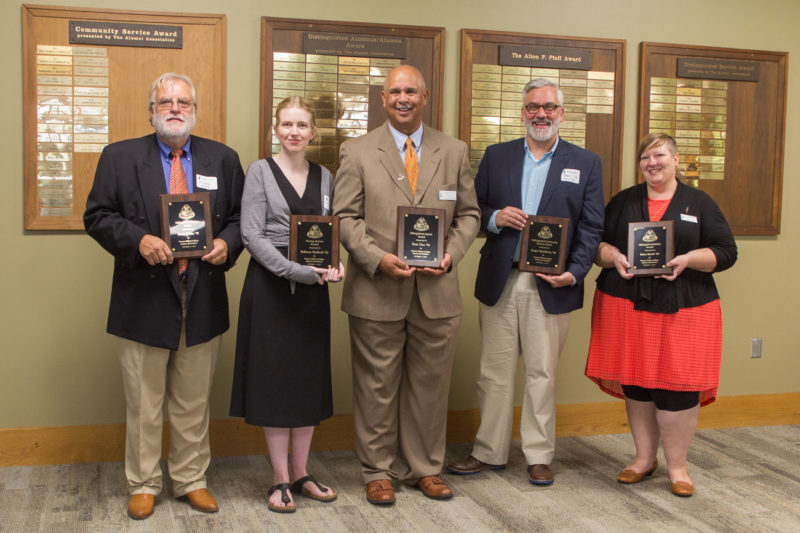 Asheville, NC – Oct. 17, 2017 – To earn a degree and use the student experience as a foundation to create a meaningful life is Warren Wilson College's objective for its graduates. As most alumni learn during their undergraduate years, going above and beyond is the College's true expectation. That's why it's no surprise the 2017 alumni award recipients are immensely successful and significant contributors to their communities.
At an Oct. 7 reception during Homecoming, the College recognized five different winners.
Distinguished Alumni Award
A 1953 high school graduate and former member of the Warren Wilson College Board of Trustees, Tom Dao, received the Distinguished Alumni Award. This award honors alumni who have achieved distinction in their chosen fields and who embody the principles for which the College stands, particularly in the areas of academics, work and community engagement as well as concern for all people. Recipients may have been widely recognized or be leading lives of quiet service in obscure places.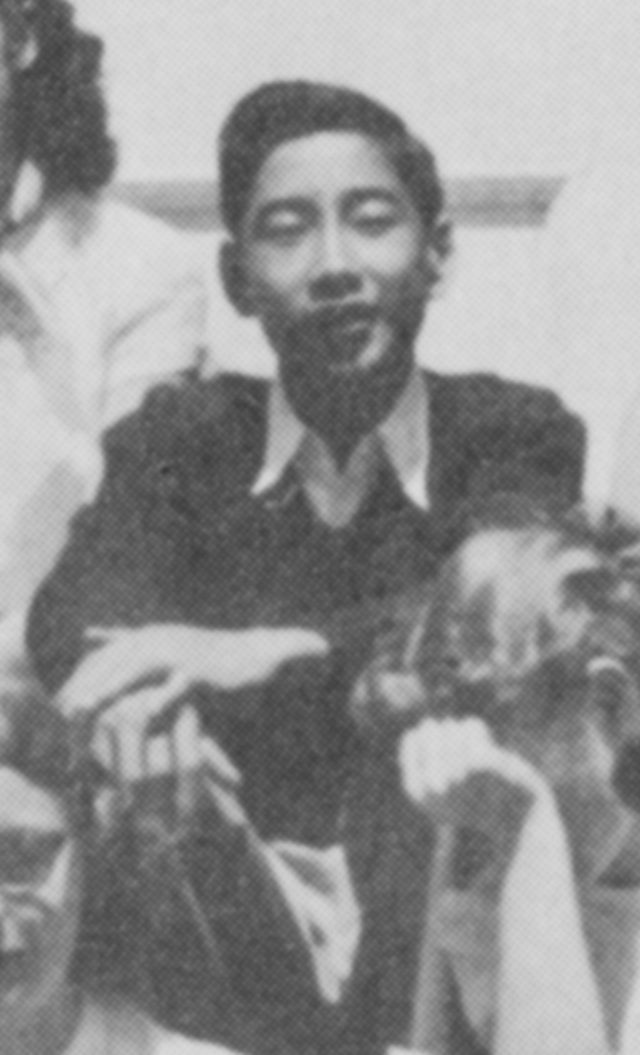 Dao initially learned about Warren Wilson High School from a missionary he met while living in Brazil. Dao worked on the Landscaping and Athletic Crews, served as the senior class president, sang in the College Choir and played on the basketball and soccer teams. After graduating, Dao went on to work for Stauffer Chemical, earning a degree from UC Berkeley along the way. He became a senior researcher with the company and eventually led operations in Southeast Asia. He is the CEO of Central Pacific Development Corporation. Dao is also actively working on new cancer treatments that combine eastern and western medicines.
"I am deeply humbled by this award," Dao said. "I feel that at many junctions in my life, my time at Warren Wilson has been instrumental. I learned perseverance and hard work, and no matter what you do, do the best that you can."
Distinguished Community Service Award
Roger Hutchison, a 1994 graduate with a degree in humanities, was presented with the Distinguished Community Service Award. This award is granted to an alum for distinguished accomplishment in any field of community service that brings honor to the recipient. The person's contribution may have religious, social or educational value. The winners are people who achieve recognition among colleagues for accomplishments and service to a community.
A former resident assistant and member of the Chapel Crew, Hutchison was destined for the ministry. He worked with Big Brothers Big Sisters of America and Grace Episcopal Church for his community engagement requirement. Hutchison is the director of Christian formation and parish life at Palmer Memorial Episcopal Church in Houston, Texas, and is actively involved in Hurricane Harvey relief efforts. To help families impacted by the floods, Hutchison led a post-Hurricane day camp at his church. More than 25 volunteers cared for upward of 50 children each day during the week that followed the flooding.
Hutchison's career has focused on interfaith, refugee, inequities in education and peace and justice work. He created "The Painting Table," which is used in small group and individual reflection for times of tragedy through painting and sharing stories. In 2013, he was invited to bring the model to Sandy Hook, Connecticut, where he worked with families following the shooting. He is a published author and a recipient of the South Carolina Governor's Order of the Silver Crescent, the state's highest civilian award for volunteer and community service.
"The beauty of [Warren Wilson College] was important, yes, but more important was the hospitality, the openness and the diversity that I experienced," Hutchison said. "It took my breath away and changed my life forever. I was made to feel like I was special, important and had something to offer – that I could and was expected to make a difference in the world."
Distinguished Service Award
The Distinguished Service Awards for 2017 went to 1978 graduate Mark White and 2003 graduate Erica Rawls. This award goes to those who demonstrate particular dedication and support of the ideals and principles of Warren Wilson College. The award is given to people who dedicate their time, talents or resources beyond the call of duty in the service of the College.
White earned his degree in biology, served on the Carpentry Crew and completed his community engagement requirement with the Swannanoa Fire Department. He is the owner of Mark White and Associates and is often found working to better his community. White led a team that built a Hendersonville hospital and has served more than 124,000 meals for Homeless and Hungry, Inc. He recently transported meals to Hurricane Irma victims in the Florida Keys. White was named the Shriner of the Year and is the former chair of the Pardee Hospital Board. In 2010, he worked with the College and his fellow alumni to create a scholarship fund in honor of his Carpentry Crew supervisor Norm Propst.
"I've been able to work hard all my life, thanks to Warren Wilson," White said. "I could have gotten an education anywhere, but what I took from Warren Wilson College was my work ethic and my wish to serve my hometown through my community service. That's what makes Warren Wilson unique in today's world."
Rawls holds a degree in social work from the College and went on to earn two master's degrees. She was a peer group leader and a resident director as a student at Warren Wilson. She is the current Warren Wilson College Alumni Board vice president and the program director at Hinds' Feet Farm, an organization providing programs for people living with traumatic and acquired brain injuries. She partners with the College and often brings her Hinds' Feet Farm clients to campus to work with students in the social work department and the sciences.
"My family sacrificed a lot for me to come here, but I know it was worth it," said Rawls. "Every job I have had in my adult life, I owe to Warren Wilson. Almost all of my friendships. The town that I live in. It is the place that has meant more to me than anywhere."
Young Alumni Award
Rebecca Rudicell, a 2005 graduate who majored in chemistry and biology and worked on the Autoshop Crew, is the recipient of the 2017 Young Alumni Award. The award recognizes the outstanding achievements of those who have attended or graduated within 15 years before the current year. This award recognizes young alumni who have achieved distinction in their chosen fields, who embody the principles for which Warren Wilson College stands and who have brought honor to the College.
Since graduating, Rudicell has earned her Ph.D. in molecular biology and completed her postdoctoral fellowship at the National Institutes of Health Vaccine Research Center. She is a cited author on 22 peer-reviewed publications, including four papers in Nature, the international weekly journal of science. Her Ph.D. research was on the origins of HIV, and she started exploring vaccinations after earning her doctorate. Rudicell's work led to the development of potential vaccines and the creation of an HIV antibody that will soon enter human clinical trials. In addition to her success in the lab, she also helped create an emergency medical fund for graduate students before the passing of the Affordable Care Act.
"I think my two years on the Autoshop Crew were the most impactful part of my time [at Warren Wilson College]," Rudicelll said. "Not only did I learn the mechanical side and how to use tools – a very useful skill personally and professionally – but it was there that I really developed a strong sense of adventure. And I learned that a sense of adventure combined with a strong work ethic can take you anywhere."
White, Hutchison, Rawls and Rudicell were on hand to receive their awards at the ceremony. While Dao was unable to attend, he asked his longtime friend and College Alumni Ambassador and 1973 graduate Rodney Lytle to accept the award on his behalf. Warren Wilson College Alumni Board member and 2004 graduate Jeannie Pfautz emceed the event, and President Lynn Morton presented the awards.
For more information about the Warren Wilson College Alumni Awards, visit https://warren-wilson.edu/after-wwc/alumni/alumni-awards-profiles. To submit a nomination, contact alumni relations manager Jay Lively at jlively@warren-wilson.edu.