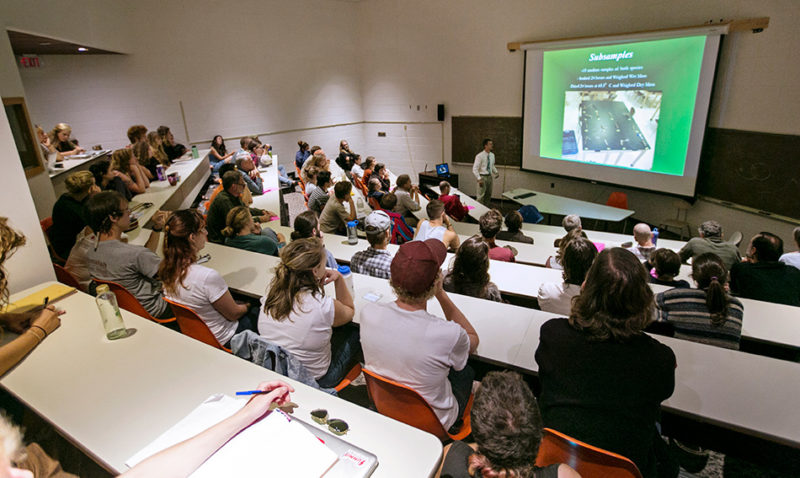 Starting with senior music recitals on Monday and ending with student documentary films on Thursday, Warren Wilson College's Capstone Carnival May 7 through May 10 will showcase culminating student scholarship on topics ranging from sociological studies of the criminal justice system to sustainable farm management plans.
"Over the last decade, hundreds of students have looked forward to presenting their original substantive work at a gathering that provides the engagement with research, ideas, and creativity of an academic conference, and simultaneously allows the entire Warren Wilson campus community to honor and applaud the exceptional work of our students," said Dr. Laura Vance, interim Capstone Carnival organizer.
The Capstone Carnival will open with a reception and welcome address from College President Lynn Morton. The Magnarella Lecture this year will be given by Dr. Phil Jamison: "Hoedowns, Reels, and Frolics: Roots and Branches of Southern Appalachian Dance." A student panel will also explore how students have integrated work, career development, community engagement, and academics in exciting and unique ways.
Students in the sciences will present research from the culmination of their Natural Science Undergraduate Research Sequences, and mathematics majors will present their capstone projects. Does eucalyptus essential oil deter mealy bugs on jade plants? What is the relationship between habitat diversity and mammal diversity in the Warren Wilson College forest? Seniors will present the answers to these questions and many others.
The social sciences have robust programming planned from global studies capstone projects to research in psychology. Social work seniors will present research under the theme "Research for Change: How Knowledge Creation Contributes to a More Just World," and topics range from affordable childcare to assessing service gaps for homeless LGBTQ individuals. Outdoor leadership majors will present Program Planning and Design projects, and archaeology students will present archeological projects ranging in location from Britain to here in Swannanoa. One sociology and anthropology session includes presentations on the criminal justice system, with topics including "Breaking 'The Blue Wall of Silence': Police on Policing, Violence, and Race" and "Separation, Communication and Devotion: An Exploration of Motherhood Behind Prison Walls."
In the humanities, historical and political science research ranges from "How Second Wave Feminism Changed Attitudes Toward Women at Warren Wilson College" to "How Strengthening e-Governance, e-Democracy, and Bridging the Digital Divide Could Prevent the Fall of Democracy in Peru." Visitors to the Philosophy and English Capstone Presentations will experience an Aristotelian examination of social media and learn about themes of pornography, sexuality, and spirituality in D. H. Lawrence's Lady Chatterley's Lover.
Representing the fine arts, seniors will read excerpts from their poetry, fiction, and creative non-fiction at the Creative Writing Senior Reading and a recital will showcase senior musicians. In addition, senior art shows are ongoing in the Holden Art Gallery. Previous to the Capstone Carnival, performances will be staged on May 4 and 5 of Ella and Echo: The Musical written by Jimena Novaro, a senior creative writing major and music minor.
Please see the session schedule for a full listing of times, topics, sessions, and student scholars: Tenth-Anniversary Capstone Carnival Session Schedule
Please see this flier for details about Ella and Echo: The Musical.