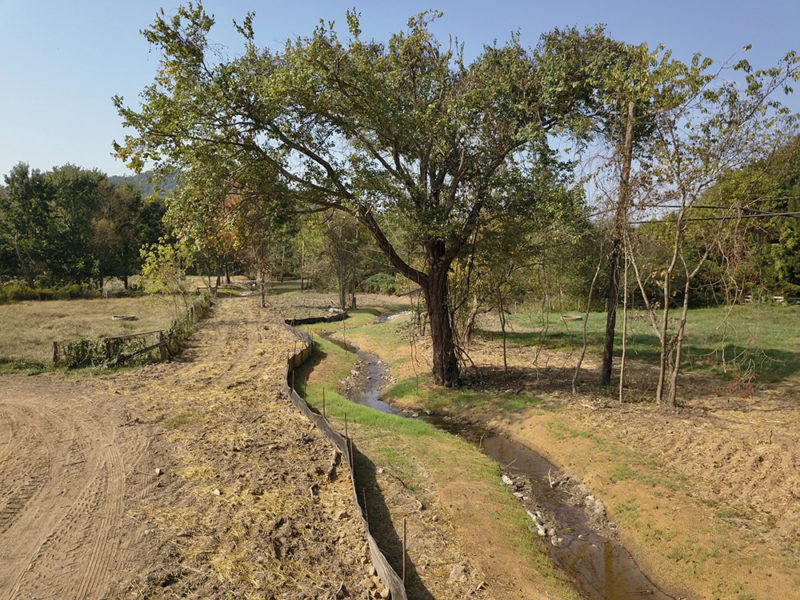 Drive down Warren Wilson Road and Riceville Road in Swannanoa, and you will likely see a lot of activity involving surveying, land moving equipment, tree planting and other construction.
Warren Wilson College has started a major project to restore campus streams to their original meanders and natural courses.
In the 1920s, many of the streams and creeks that used to meander through Warren Wilson College's current farm fields were channelized, tiled and put underground for agricultural purposes—a common practice at the time.
"Right now, what happens when you get these rains, it's just a straight pipe of sediment going down into the river," Dean of Land Resources Dr. Dave Ellum said. "By putting in meanders, some berms, and planting trees, we'll be able to settle out some of that sediment again."
The project involves restoring 11,455 linear feet of the college's streams to their natural meanders, removing invasive species, enhancing streams and planting about 25,000 trees including edible products such as pawpaw and persimmon.
The project will help improve water quality in the Swannanoa River, reduce sediment load, diversify and improve wildlife habitat, improve the farm infrastructure and increase the aesthetics of the campus.
"The largest impact of the project is the establishment of planted riparian buffers around the restored streams," said Worth Creech, vice president-Southeast of Restoration Systems. Restoration Systems is a third-party company that is doing the work. "These vegetated areas provide a lasting water quality benefit immediately for the Swannanoa and ultimately the French Broad River. Reduced nutrient and sediment loads into these receiving waters means a healthier ecosystem all around."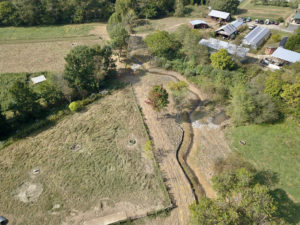 During the initial stages of the project, Restoration Systems made a generous gift to the Warren Wilson College Farm. These funds were given as a matching gift during Warren Wilson's "Giving Day," and were used to purchase new equipment for the farm and to help with transitioning to some new pasture layouts.
The project is also funded in part through stream mitigation credits that the government purchased to offset the negative effects of construction for the I-26 connector project currently underway in Asheville. Regulated by the Clean Water Act, stream mitigation banking allows developers to offset the ecological impacts of their construction projects through buying credits from third-party companies that are then used to restore wetlands and streams elsewhere.
Warren Wilson College has placed conservation easements on the affected lands to protect them as stream buffers once the project is complete. Research will still be allowed in those areas. Ellum said the project provides many educational opportunities for students, both while the project is happening and after it is complete.
The work is expected to be completed in December.