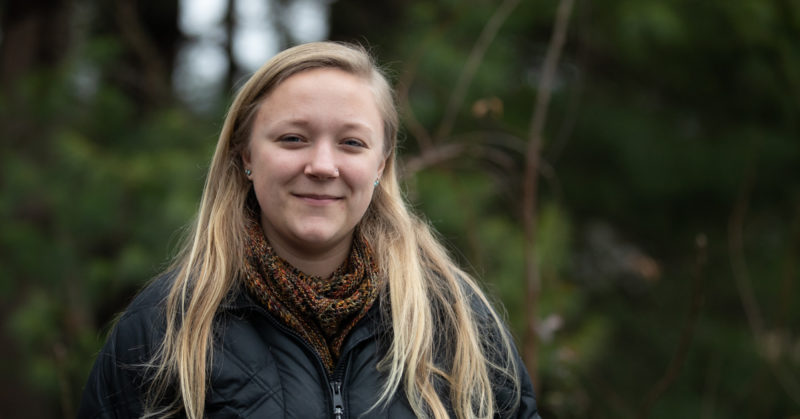 Warren Wilson College senior Chandler Scott-Smith has been selected for outstanding leadership and service by North Carolina Campus Compact, a state-wide network of colleges and universities committed to community engagement.
Scott-Smith is a recipient of the network's Community Impact Student Award. The award recognizes students who have a deep commitment to community involvement and ability to inspire their peers.
As a Bonner Leader at Warren Wilson, Scott-Smith has contributed to various programs offered by the college's Center of Community Engagement. The national Bonner Leader Program supports students who are especially interested in service.
"At Warren Wilson, community engagement is so ingrained in what we do, but students have a great opportunity to go even deeper than what they might be required to do for coursework or for the community engagement commitment," said Scott-Smith, who is an environmental studies major. "My mission on the Bonner Crew and working with the Center for Community Engagement is to help students develop a civic identity that they can take with them beyond Warren Wilson and into whichever community they live in afterward."
Scott-Smith's community engagement work includes coordinating Room In The Inn, a mobile shelter hosted two to three times per year on campus for women experiencing homelessness. Scott-Smith recruits student volunteers, organizes logistics and works with students on key takeaways following each program.
Scott-Smith has also supported the Service Learning Fellowship, a program for faculty members teaching serving learning courses. She has demonstrated great knowledge of local community partners and a depth of experience in service-learning, which has enhanced the fellowship program. She organized a panel comprised of students and community partners to provide faculty with different perspectives, feedback and input to help improve service-learning courses and implement new ones.
Through her work as the chair of the Empty Bowls committee, she has helped raised more than $6,000 to donate to community organizations that focus on food access and food security. She also helps lead the "Showing Up for Racial Justice" club, which works with the Wilson Inclusion, Diversity & Equity Office (WIDE).
During her time at Warren Wilson College Scott-Smith has worked with countless community partners, including food pantries, homeless shelters, community gardens and local schools. She has taken five service-learning courses that integrate community engagement into the curriculum, including a "Gardens and the Literary Imagination" course, which included service work at Dr. John Wilson Community Garden, and an "Educational Psychology" course that worked at Evergreen Community Charter School.
"Chandler's experience, coupled with her intentional exploration of intersections of community engagement work with social and racial justice, make her a thoughtful and inspiring leader for both students and faculty," said Associate Dean of Community Engagement Shuli Archer, who nominated Scott-Smith for the award.
Scott-Smith is one of 22 students across the state to receive the 2019 award, joining more than 300 college students honored by the organization since the award was first presented in 2006.
"I feel honored to receive this award and incredibly grateful to be a part of the Bonner Leaders Program and to work at the Center for Community Engagement," Scott-Smith said. "The real reward for the engagement I have done is the connections and relationships I have had the opportunity to form with Warren Wilson's amazing community partners across Asheville, and receiving this award has caused me to reflect back on these connections and the immense impact they have had on me and how I engage with my community."