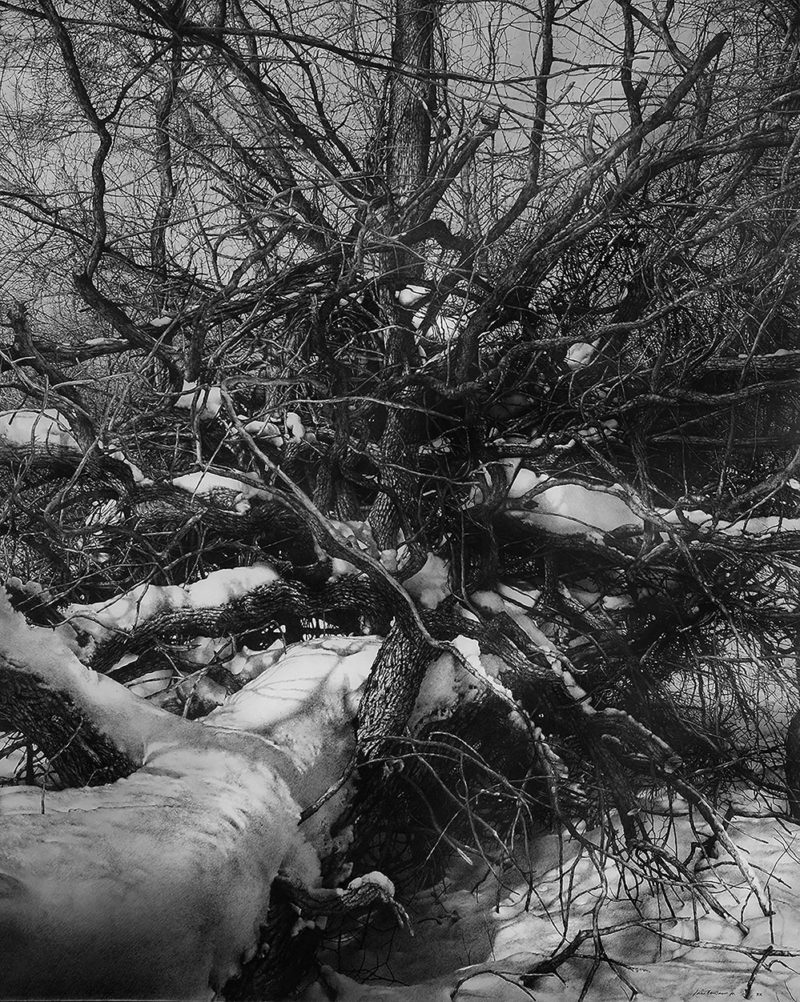 The Elizabeth Holden Gallery at Warren Wilson College is hosting UNC Asheville's juried international exhibition, Drawing Discourse. The exhibition features 44 works of contemporary drawing selected from among more than 1,000 submissions by more than 300 artists in five nations. The exhibit opens with special events on Jan. 17-18, featuring renowned artists including juror William Beckman.
Due to renovation work at UNC Asheville, this 11th annual edition of Drawing Discourse will be hosted at the Elizabeth Holden Gallery at Warren Wilson College, with free admission and gallery hours 9 a.m. to 5 p.m. weekdays, and noon-4 p.m. Saturdays through Feb. 21.
Beckman, one of the leading realists among U.S. artists, will provide an opening lecture about contemporary drawing from 5-6 p.m. on Friday, Jan. 17 in the Kittredge Theatre at Warren Wilson College. Beckman's talk will be followed by a reception in the Elizabeth Holden Gallery.
The morning of Saturday, Jan. 18 will feature Conversations and Coffee, with morning beverages outside the gallery at 9:30 a.m., followed by discussion from 10-11 a.m. in Kittredge Theatre.
Artists represented in the exhibition are: Kelly Adams, Jan Arabas, Jimmie Arroyo, David Bailin, Steven Bradbury, Cynthia Buob, Philip Carpenter, Dennis Carrie, Paul Chojnowski, Eilis Crean, Angela Cunningham, Pat De Caro, Abel Dolby, Matthew Durante, Alia El-Bermani, Jason Franz, Elana Hagler, Hiroshi Hayakawa, Patricia Johnson, Melissa Katz, Michelle La Perriere, Sarah Leahy, Andrew Mastriani, Taylor Mazer, Armin Mersmann, Joseph Miller, James Mullen, Sara Pedigo, Gail Postal, Esther Randall, and Taylor Woolwine.
All Drawing Discourse events are free and open to everyone. For more information, email exhibit organizer Tamie Beldue, UNC Asheville associate professor of art and department chair, at tbeldue@unca.edu.
Juror William Beckman
William Beckman was born in Maynard, Minnesota in 1942 and, after completing his undergraduate studies in his native state, studied art at the University of Iowa in Iowa City, receiving MA and MFA degrees in 1968.
Beckman began his New York exhibition career in a group show focused on Iowa in 1968 and soon attracted the attention of Allan Stone, at whose gallery the artist had his first one-person exhibition in 1970.  Notably, Beckman was included in the landmark exhibition, Contemporary American Realism since 1960 organized in 1981 by Frank Goodyear at the Pennsylvania Academy of the Fine Arts. The show traveled to Virginia and California, and Beckman' striking portrait and landscape had immediate and lasting impact.
Beckman's portraits were the subject of an individual exhibition at the opening of the newly-situated National Portrait Gallery in Washington, DC in 2006.  His work is included in the collections of that museum, as well as the Whitney Museum of American Art (New York), the Joseph H. Hirshhorn Museum and Sculpture Garden and the Smithsonian American Art Museum (Washington, DC), Museum Moderne Kunst (Vienna, Austria), The Art Institute of Chicago, The Carnegie Museum of Art (Pittsburgh, PA), Flint Institute of Arts (MI), Milwaukee Art Museum (WI), Columbus Museum of Art (GA), Des Moines Art Center (IA) and Frye Art Museum (Seattle, WA).
Throughout his career, Beckman has used conventional media in unconventional ways.  His unvarnished oil paintings on panel have a depth of image and surface quality uniquely his; it is achieved by a painstaking process of layering oil paint on the panel and polishing each layer by hand before applying another.  His oversize drawings, in charcoal on paper, make use of the charcoal dust and the grain of the paper in the creation of the powerful image.
Beckman has been represented by Forum Gallery since 1993.