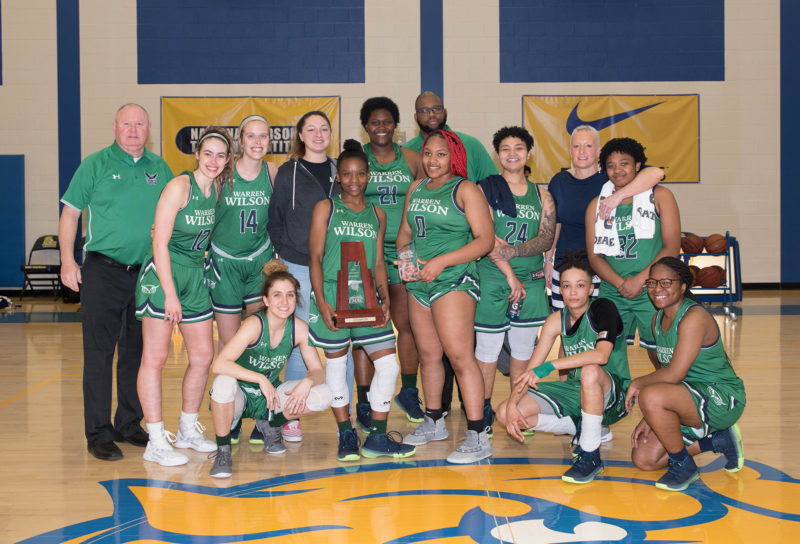 The women's basketball team held off Apprentice school 81-75 to win the school's first-ever Eastern Metro Athletic Conference Women's Basketball Tournament championship. The Owls got off to a fast start and withstood run after run from the Builders en route to claiming the title.
Warren Wilson (11-13) broke open a close game by closing the first quarter on a 11-2 run keyed by seven points from Asia Caldwell. Apprentice (7-18) closed the gap to four early in the second stanza, only to see the Owls extend the lead back to nine after Malaka Elix knocked down a three-pointer with 3:41 left in the half. The Builders got back-to-back three-pointers from Aquazia Jones, and a conventional three-point play from Alexis Wethington to close the half, while holding Warren Wilson to just two points on the defensive end as the teams combined to shoot just 20 percent from the floor in the half.
The Builders hung close to Warren Wilson in the early stages of the third period, but the Owls started to slowly open the gap between the teams as the clock wound down towards two minutes to play. Caldwell's free throw with 2:29 left in the quarter gave Warren Wilson their first double-digit lead of the game, 49-39. Danielle Hinkleman's jumper just before the buzzer staked the Owls to a 12-point advantage.
Hinkleman then opened the fourth with another basket, as Warren Wilson seemed poised to pull away. The Builders would not go quietly, however. A Brittney Jones layup brought Apprentice to within six points with 150 seconds to play. The Owls converted on four of their next seven possessions to close out the game.
Aquazia Jones capped off her collegiate career with 22 points and 14 rebounds. Alena Puaauli-Pelham and Brittney Jones each added 16 points for Apprentice.
Asia Caldwell scored 19 points and grabbed eight rebounds off the bench. Based on her performance in both games of the tournament, she was named Tournament Most Valuable Player. Danielle Hinkelman had 17 points and nine boards for the Owls.