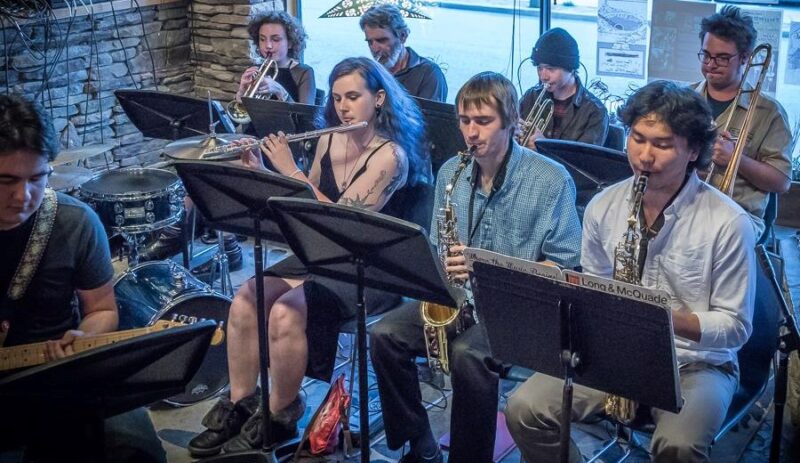 Two anonymous Asheville donors have established a scholarship fund for Warren Wilson College music students, beginning with a gift of $200,000, with plans to give additional gifts in the coming years toward a total of $1 million.
The Jazz Past – Jazz Future Scholarship Fund will help Warren Wilson's Music Program provide recognition and financial assistance to outstanding student musicians enrolled at the College and studying music. 
"In the years I have known both donors as a musical performer, their love of jazz and passion for live music have elevated the Western North Carolina music scene," said Jason DeCristofaro, an instructor in the Warren Wilson College Department of Music who approached the donors with the idea of an endowment for the college. "As a music educator, particularly in the field of jazz, I am excited to see how this generous gift will provide financial support to those students who wish to grow not only as jazz musicians, but as well-rounded, creative, and culturally conscious musicians for the 21st century."
The new scholarship gives priority to students with an interest in jazz performance, and also supports diversity within the College community by giving preference to students who are Black, Indigenous, and People of Color (BIPOC). As a result, the Jazz Past – Jazz Future Scholarship Fund offers particularly strong opportunities for increased enrollment and growth in the music program, encouraging students to pursue versatile, cross-genre, and well-informed musicianship.
"This incredible gift is a game-changer for the music program at Warren Wilson College," said Kevin Kehrberg, the chair of the Department of Music. "First and foremost, it provides critical resources for enrollment and recruiting with a particular emphasis on supporting BIPOC students. We're also very excited about the huge potential for expanded music curriculum, programming, and partnerships that this gift brings."
Warren Wilson's music program is designed for students with career ambitions in music and is popular across campus with students incorporating music into their broader educational experience. Through cross-curricular study, the program stresses regional and cultural contexts through a hybrid of music theory and performance, Appalachian studies, cultural studies, musicology, and ethnomusicology. It offers diverse performance experiences in student ensembles that perform frequently across campus and throughout the region, including a Bluegrass Band, Old-Time String Bands, College Choir, Gamelan Ensemble, and a Jazz Ensemble.
Vice President for Academic Affairs Jay Roberts said the donors were drawn to the reputation of the Warren Wilson College's music program.
"We're proud that our music department and faculty have inspired such significant support from these donors in our region," Roberts said. "Our traditional music programs have long held a prominent position in our institution and have been widely recognized in the field. This generous support bolsters our jazz programs while strengthening the diverse offerings of our incredible music department."
Students who study music at Warren Wilson benefit from a faculty body of award-winning performers and scholars across multiple disciplines. One recent interdisciplinary project partnered Jeffrey A. Keith, Professor of Global Studies and Kevin Kehrberg, Chair of the Department of Music. In August, after eight years researching the folk song "Swannanoa Tunnel" and the railroad tunnel that it commemorates, they co-authored and published the article "Somebody Died Babe: A Musical Cover-Up of Racism, Violence & Greed" in The Bitter Southerner. The story is a tragic but important one about music, history and race in Western North Carolina.