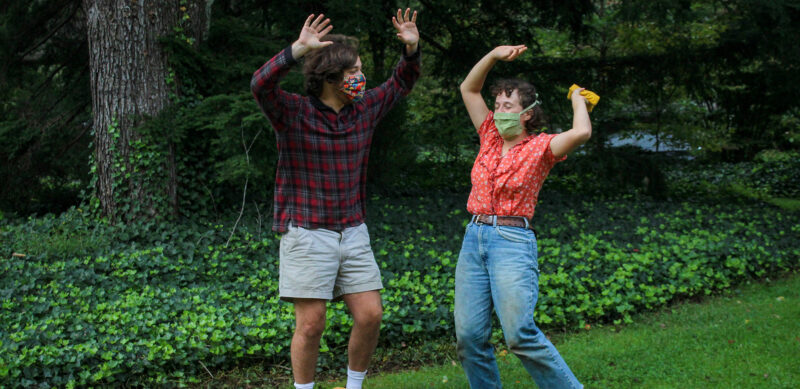 Warren Wilson College has finished the fall semester with no positive on-campus cases of COVID-19. Warren Wilson was the only college in Western North Carolina to have no positive cases within its residential community this semester.
"The fact that we were able to have zero cases this semester is mind-blowing," said Justin Gildner, director of safety and risk management at Warren Wilson. He led the school's Pandemic Response Team of 13 staff members from across multiple departments. "Every week I told the team to hold their breath and keep doing what they're doing. We took it one day at a time." 
The college had extensive health and safety measures in place, including daily temperature checks and a modified academic schedule that ended classes by Thanksgiving and moved finals online. Throughout the semester, most classes were partially taught online. Many classes that met in-person utilized the school's 1,150-acre campus for outdoor classrooms.
Warren Wilson College was the only college in Western North Carolina that canceled all competitive athletics at the beginning of the fall semester.
"It was disappointing not to play this semester during my senior year on the team, but it was the right call," said Ethan Vanderbleek, a student who serves as captain of the men's soccer team. "I would have liked to play but I'm glad the school put our safety first. It was decisions like these that made it possible to keep us at zero cases." 
Five Warren Wilson students served as Student Health Ambassadors through a program with the Mountain Area Health Education Center (MAHEC) and other regional colleges. They completed rigorous COVID-19 training and supported the community by planning wellness programming, distributing information, supporting students who were feeling anxious or in quarantine, and facilitating a pen pal program with students from other colleges.
Partway through the semester, also in partnership with MAHEC, Warren Wilson began offering regular testing to student athletes. Last week, in conjunction with a program sponsored by the North Carolina Department of Health and Human Services and the North Carolina Independent Colleges and Universities, the college began offering students and employees the opportunity to have an antigen COVID test before leaving campus for Winter Break. 
"I am grateful for our community, for the ways we have demonstrated courage and resilience during this challenging semester," said President of Warren Wilson College Lynn Morton. "I am exceedingly grateful that we made it to this week without the outbreaks of COVID that have so seriously affected other campuses. In the end, we were able to ensure the health and safety of our campus because of the students, faculty and staff who took the virus seriously and followed our health and safety protocols. We are extremely grateful for the sacrifices everyone made to prioritize safety this semester."
The college remains dedicated to exploring all avenues and partnerships for testing to continue to ensure the health and safety of students next semester.
"We believe that our rural location in the North Carolina mountains, combined with our small population, low student-to-faculty ratio, and large 1,150-acre campus, will continue to enable us to minimize risks while providing a safe place to live and learn," Morton said.