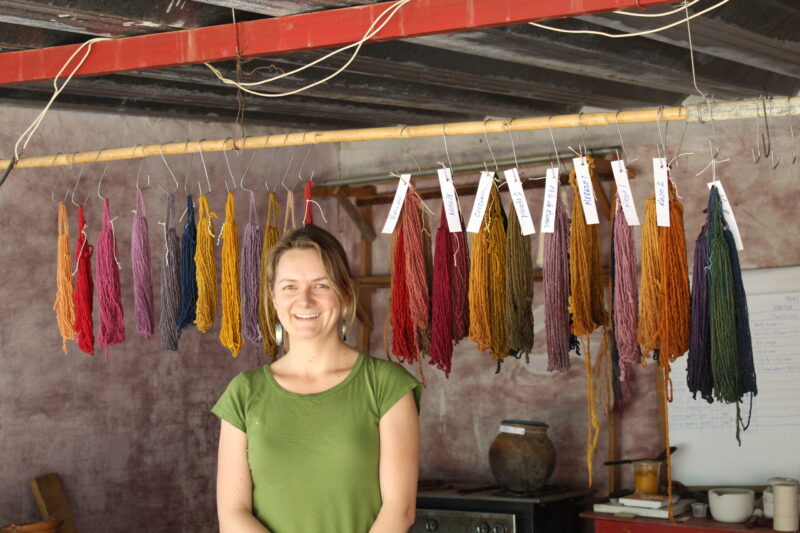 "
Martha Clippinger: Vibrating Boundaries
"
January 21 – February, 17 2021
Location: Holden Art Gallery
Open to campus Monday – Friday, 11am-5pm and Saturdays 1-4pm. Visitors from outside campus can contact
artdepartment@warren-wilson.edu
to make an appointment to visit the Gallery. Masks and social distancing are required.
Artist talk on Wednesday, February, 3 at 6 pm. Register Here. You can also see a virtual tour here.
A new exhibit at the Holden Gallery at Warren Wilson College features Martha Clippinger's intensely colorful work in textile (quilts and woven rugs), ceramics and wood constructions.
The exhibition title "Vibrating Boundaries" is drawn from Josef Albers's portfolio "The Interaction of Color," a series of silkscreen plates that demonstrate the color exercises he developed while teaching at nearby Black Mountain College between 1933 and 1949. The exhibit will also feature some of Albers' silkscreen demonstrating his color theories.
Albers insisted on the need to observe colors as they really are, and he noted that colors will change in appearance depending on their context: when certain colors are placed together, they appear to vibrate. He also taught that color and our perception of color is not absolute, but always relative to its surroundings and to our own memory and past experience, an understanding that our perceptions are not absolute but relational.
Drawing from Albers' ideas, Clippinger does not select the palette for a work in advance, but rather she designs by intuitively putting colors side by side (fabrics, skeins of wool, paint, glazes) to see how they interact, sometimes embracing that vibration. Her works present opportunities for the viewer to observe the interrelatedness of color.
Clippinger collaborated with master weavers Licha González Ruiz and Agustín Contreras Lopez of Teotitlán del Valle, Oaxaca, Mexico to create tapetes (Spanish for "rugs") on view in the exhibit. She said the Zapotec architecture of Oaxaca inspires her designs, while the environs of the region inform the intense hues of the woolen yarns, which are hand dyed by Ruiz and Lopez.
"I often select the rug's colors in person, based on the dyed wool that Licha and Agustín have available in their workshop," Clippinger said. "This adaptative process often leads to shifts in color from the original design, but as with the piecing of my quilts or constructing paintings from scraps of wood, I look forward to the surprises that result from a flexible and intuitive approach to making."
Clippinger's work is also strongly influenced by the quilts made by African American women quilt-makers from Gee's Bend (Alabama), which she viewed at the Whitney Museum of American Art in New York City as a student.
On Wednesday, February 3 at 6 pm, Martha is going to give an artist talk and take questions on Zoom (that will be recorded and available on the Holden Gallery website). She will discuss her influences and intentions and this artistic collaboration and ongoing visits to Mexico.
"Martha's work is deceptively simple, but there is more to discover if you spend some time with it," said Julie Caro, Professor of Art History and Chair of the Art Department at Warren Wilson College. "Following Josef Albers's color exercises and art, Martha's work encourages the viewer to contemplate and compare color. Does this orange or pink always look the same, how does it look on the wood, in this woven rug, on this quilt or ceramic piece, next to this blue, yellow or green?"
As viewers explore the exhibition, they can consider how colors behave in the contexts of the different materials and how they transform depending on their surrounding environments.