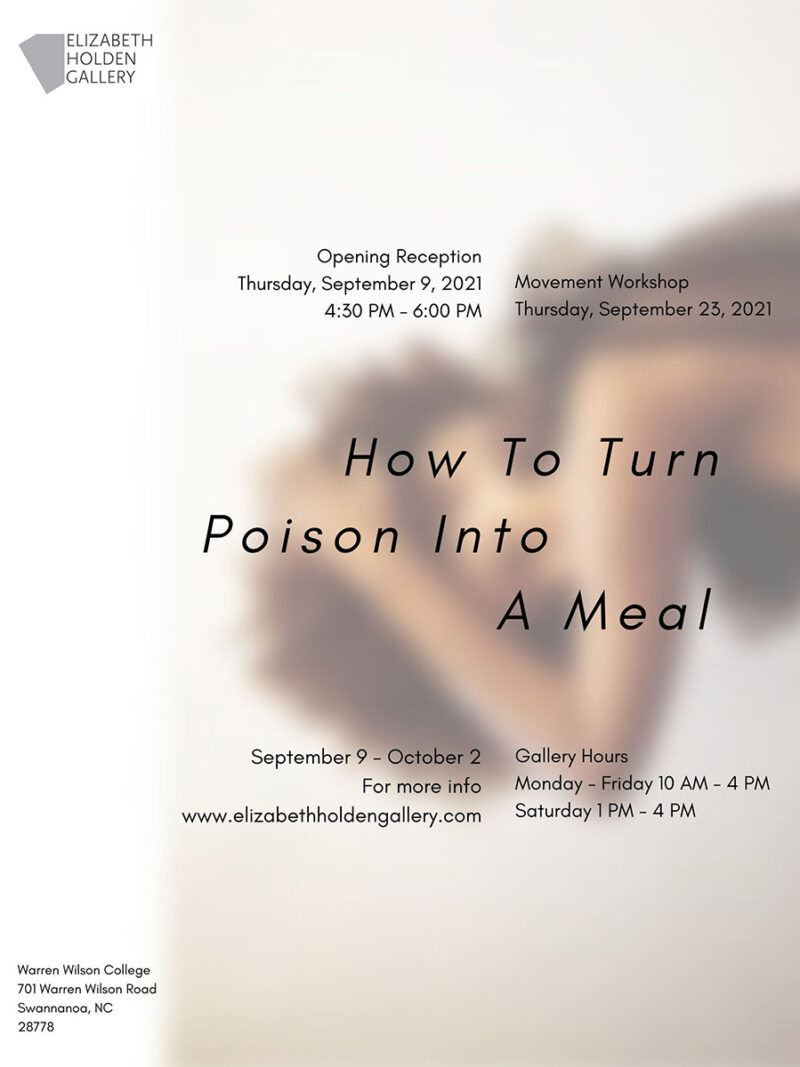 "How to Turn Poison Into a Meal"
Coco Villa
Location: The Elizabeth Holden Gallery, Warren Wilson College
September 9 – October 2
Open to the public Monday Friday 10 a.m. – 4 p.m. and Saturday 1-4 p.m.
Opening reception September 9, 4:30 – 6 p.m.
Movement workshop September 23
For more information on visiting hours and registration go to www.elizabethholdengallery.com
Opening September 9 at the Elizabeth Holden Gallery, Coco Villa's "How to Turn Poison into a Meal" is a multisensory exploration into family history and the body as archive, told through video, movement, installation, textiles and participatory installation. 
The exhibition features works made in the last three years and celebrates Villa's connection to the women in their family, while inviting viewers to consider their own bodies and histories.
"The collection is an invitation for spectators to become embodied with the work and its multiple points of entry, effectively becoming an extension of the work itself," said lydia see, curator of the exhibition. "Coco has such a lovely way of navigating space and form, and the interactive elements of this show allow visitors to become active participants in Coco's process rather than just passive observers."
Coco Villa is currently based in Asheville and works as an artist and performer. Their works and performances have been included in numerous exhibitions both nationally and internationally.
"I'm so excited to bring new breath into this body of work and present it differently than I have in the past," Villa said. "This is starting to feel like a body of work I will continuously elaborate upon. 'How To Turn Poison Into A Meal' was once a project that felt as if it had a very clear beginning and end. I don't see the end of this exploration anymore which I think allows me to be completely porous and in love with the entire process."
The exhibit will be on display through October 2. The opening reception will happen on Thursday, September 9 from 4:30 – 6 p.m. Villa will host a movement workshop on September 23.
The Elizabeth Holden Gallery hosts up to eight exhibits annually that incorporate a range of media, content, and points of view. The gallery presents contemporary artwork by both professional and student artists. Art department senior exhibitions, biennial faculty exhibitions, and the Annual Juried Student Art Exhibition are also on display throughout the academic year. The gallery also functions as an interdisciplinary teaching and learning space for the Art department and the wider Warren Wilson community.