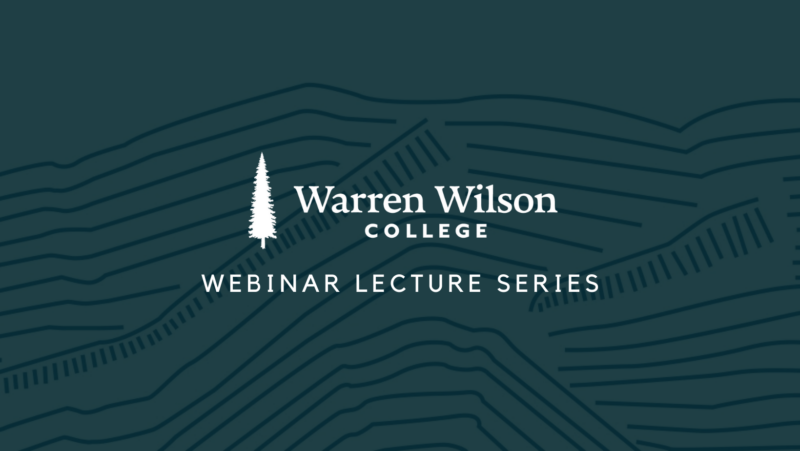 All webinars are Free & Live on Zoom
Past Webinars:
"Our Last Best Act" with Dr. Mallory McDuff
Join us for a discussion with Warren Wilson Environmental Studies and Outdoor Leadership Professor, Mallory McDuff, Ph.D., who went on a one-year journey to revise her final wishes with climate and community in mind. In her new book, Our Last Best Act, she shares stories about the options she explored—from green burial to human composting—including discoveries on Warren Wilson College's campus.
Dr. McDuff is joined by WWC alumna, Cassie Barrett '08. Cassie serves as the Director of Operations at Carolina Memorial Sanctuary, a conservation burial ground in Mills River, North Carolina.
Warren Wilson College Presents the Socially Responsible and Environmentally Sustainable Investment Speaker Series
"Socially Responsible Investing"
Featuring Erin Hadary, '03, MBA, CFP, CAP
Certified Financial Planner and Chartered Advisor in Philanthropy
"Environmentally Sustainable Investing"
Featuring Peter Krull, CSRIC Founder, CEO and Director of Investments for Earth Equity Advisors
About the Series
As a nationally recognized leader in responsible investing, Warren Wilson College is 100% divested from fossil fuels and has created a Responsible Investment policy (2015) and an Environmental, Social, Governance (ESG) Committee of the Board of Trustees to guide proactive investment decision-making. This 2-part educational series highlights Warren Wilson's commitment to environmentally and socially responsible investing.
Host
Anthony Rust, Trustee and Chair of the Investment Committee for Warren Wilson College's endowment fund.
"Reclaiming Our Spaces: Black Existence in the Public Sphere"
Daleah Goodwin, Ph.D.
Professor of History and Director of Diversity, Equity, and Inclusion Initiatives
Warren Wilson College
In Reclaiming Our Spaces: Black Existence in the Public Sphere, Dr. Daleah Goodwin overviewed how Black people navigate their presence in public spaces. Dr. Goodwin focused on the work of Miss Hallie Quinn Brown, 20th-century elocutionist, suffragist, educator, temperance crusader, activist, and a founding member of the Black Women's Club movement, and shared how Brown and other leading Black women in the 19th and 20th centuries resisted local and national efforts to marginalize the existence of Black women and instead created educational, historical, and political spaces for Black people.
Dr. Daleah Goodwin (she/her/hers) is a historian of 19th and 20th century Black women's history. She serves as Professor of History and Director of Diversity, Equity and Inclusion Initiatives at Warren Wilson College (NC). She attended The Florida A&M University for undergraduate and graduate study and completed her Ph.D. in History with a specialization in Women and Gender Studies and African American History at The University of Georgia. Dr. Goodwin is also working on a book entitled Sisterly Affections: The Work of Miss Hallie Quinn Brown which examines spirituality, education, and organizational activism of 19th- and 20th-century Black women.
"An Ecosystem for Change: Building Community-Controlled Economies" WWC Green Entrepreneurship Arthur Vining Davis Foundations supported lecture 
featuring entrepreneurs from the Boston Ujima Project Nia Evans & James Vamboi, Jr.
Investing for impact can be most successful and rewarding in one's own backyard, where the challenges, solutions, and relevant stakeholders are most familiar. The Boston Ujima Project is bringing together neighbors, workers, business owners, investors, grassroots organizers, and culture-makers, to create a community-controlled economy in Boston.
This special event took place on All-In for WWC Giving Day, April 15, 2021.
"Mountains to Maldives: Leading a Life of Adventure through Work" Ian Robertson Distinguished Lecture in Inspired Work
featuring Diplomat and Journalist in Residence, Elizabeth O. Colton, Ph.D.
In this lecture, Dr. Colton shared her experiences from growing up in Asheville, NC, to working in 120 countries throughout her career as an award-winning diplomat; as a Fulbright Scholar and professor; and as an Emmy-winning journalist and editor.
That's (Not) My Home: Music, Racism, & the Railroad's Arrival in Buncombe County
featuring WWC faculty, Jeff Keith, Ph.D. and Kevin Kehrberg, Ph.D.
Warren Wilson College professors Jeffrey A. Keith and Kevin Kehrberg as present on the musical legacies extending from the late nineteenth century construction of the Swannanoa Tunnel. Part song profile and part historical lecture, this presentation builds on their recent article in The Bitter Southerner, "Somebody Died, Babe," which demonstrates how the song "Swannanoa Tunnel" (also known as "Asheville Junction") has traveled through folk and popular culture in ways that, among other things, obscure the vital role African Americans performed in the history of Western North Carolina–particularly in the context of the Western North Carolina Railroad. Attendees will learn about topics such as 1870s Appalachia, railroad construction, the convict labor system, work songs, and the racial politics of American folk music.
Land Innovation: Modeling Conservation and Climate Action for a Changing World with Dave Ellum
Dave Ellum, Ph.D., talks about Warren Wilson College's Land Innovation programming around climate, land stewardship, and enterprise. Initiatives discussed include regenerative agriculture, agroforestry, non-timber forest products, and land-based partnerships. Get a first-hand look at our land operations and hear about opportunities to partner and collaborate.
Climate & Forests The Carbon Sequestration Puzzle
Coexistence: Managing Working Lands for Wildlife
Working lands are typically focused on producing food, timber, or fuel for humans, but what about other species? While sometimes seen as a threat to livelihoods, wildlife serve many supporting roles in all ecosystems, including farms and working forests, and managing with them in mind can be beneficial. In this webinar, Conservation Biology Professor Liesl Erb was joined by Garden, Farm and Forest Managers Ben Mackie, Blair Thompson, and Shawn Swartz to discuss how we can make working lands work for all.
Challenging White Supremacy: Decolonization in the Era of Black Lives Matter
Dr. Rima Vesely-Flad, Professor of Philosophy and Peace and Justice Studies at Warren Wilson College, discusses the origins of white supremacist thinking and how such entrenched theories continue to manifest in systemic oppression in the present day. She also uplifts the voices of frontline activists who challenge systems of power and seek to decolonize identities, communities, and economies.
Building a Craftscape: What is a Field and Who Does It Include
There is no single history of craft. Craft is at the core of cultural knowledge, learning between generations, and community connections. Although museums and academia are considered cultural centers, these spaces do not include the breadth and depth of craft histories. In this webinar, Namita Gupta Wiggers discusses how building a craftscape moves us from inviting people to have a seat at the table to rethinking the table itself. What is possible when we shift our thinking towards building a field connected to the lands beneath our feet?
Timing is everything: Using experimental gardens and citizen science to respond to climate change
Phenology, or the timing of seasonal events in nature, has wide ranging effects on life on Earth. We all have an intuitive sense of how the timing of wildflower blooms, fall color changes, and other seasonal events are affected by climate. At this webinar, Warren Wilson College Biology professor, Dr. Alisa Hove, is joined by Biology alumni (and former phenology research interns) Jenna Joyner '19 and James Kitchens '19 to discuss how phenology research contributes to the scientific community's efforts to understand and respond to climate change. They will also describe phenology research based on the WWC campus, and how citizen scientists are contributing to phenology research by collecting data for the USA National Phenology Network.