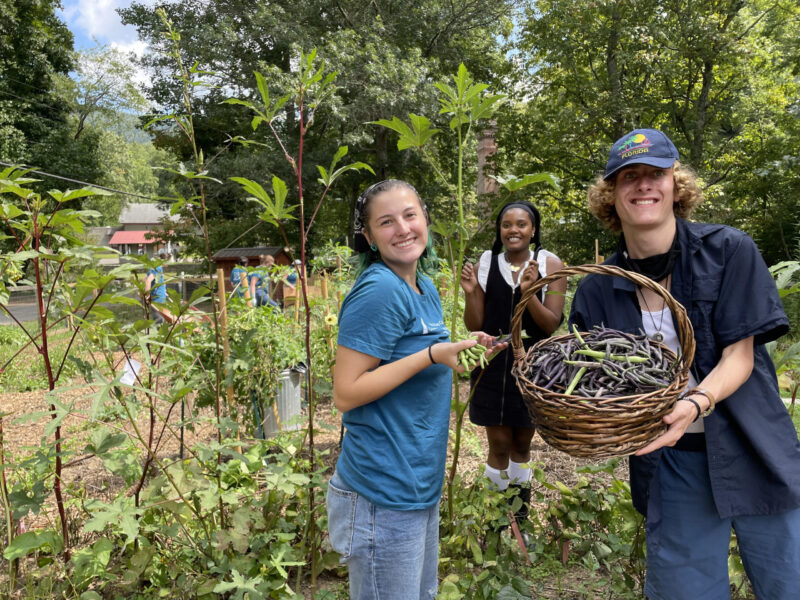 Students in the Gardens: Ecology, Cultural Identity, and Social Change class at Warren Wilson College got their hands dirty at Fern Way Farm School in Black Mountain, North Carolina. In the process, they've learned about systemic challenges such as poverty, food insecurity, and houselessness.
"When we are at Fern Way, we talk a lot about our societal impacts and how what we are doing relates to society, nature, and wellness." said Sarah Janae Black '26, a student in the course.
As a First Year Seminar course, which incorporates service learning, Gardens encourages students to focus not only on the ecology of gardens but on how those gardens can bring immense benefits to communities. As students work in the garden they can make connections between their experiences and the topics and issues that they have discussed in class.
"They helped move a chicken coop farther away from a stream," said Dr. Amy Boyd, Professor of Biology and instructor of the course. "That gave us a chance to talk about runoff from gardens and how that impacts water quality and aquatic ecosystems". Dr. Boyd weaves information about social, political, economic, and environmental issues into the projects that students are actively working on to allow them to gain a greater understanding of what they are learning.
Fern Way Farm School is a division of Christmount Assembly. Warren Wilson has partnered with Christmount over the years in many capacities including the creation of forest management plans and a thorough floristic survey of their 400-acre forest preserve.
This semester, the First Year Seminar students planted seeds, fertilized plants, cleaned out plant beds, harvested produce, and engaged in a plethora of other projects. The class worked at Fern Way every Friday until Thanksgiving.