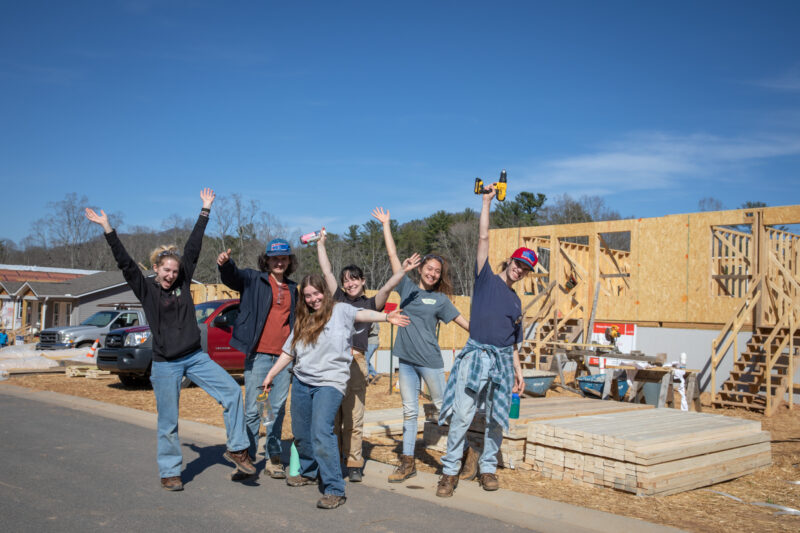 A group of Warren Wilson students are spending their Spring Break volunteering with Habitat for Humanity.
At the build site in West Asheville, students are spending the week painting, adding railings, moving drywall and building walls. The houses they build will provide affordable housing to those in need.
At Warren Wilson College, community engagement is a graduation requirement. That means students work to build a just, equitable and sustainable world before they even graduate.
Habitat for Humanity of Asheville seeks to address the housing crisis by empowering homeowners to save more, invest in education, pursue opportunities and have greater financial stability.
Warren Wilson student leader Emza Shackelford-Whitten said the work has been very rewarding.
"I've always been interested in accessible housing. I worked in the food pantry (Box of Baguettes), so I figured food security, followed by housing security, is a natural progression. I recognize my privilege, in growing up in a house that we owned. Giving back is awesome," said Shackelford-Whitten, who is a Biology and Environmental Studies major. "It's been really great working with the other volunteers here. Everyone's so welcoming, it's so nice."
Over the course of the week, students had the opportunity to both engage in the physical building of the homes and also meet to talk about big topics relating to affordable housing, such as racial discrimination in housing and possible solutions to the housing crisis.
To purchase a Habitat for Humanity home, qualified homeowners pay an affordable monthly mortgage that is equal to or less than 30% of their gross monthly income. To learn more about Asheville Habitat, visit https://www.ashevillehabitat.org.