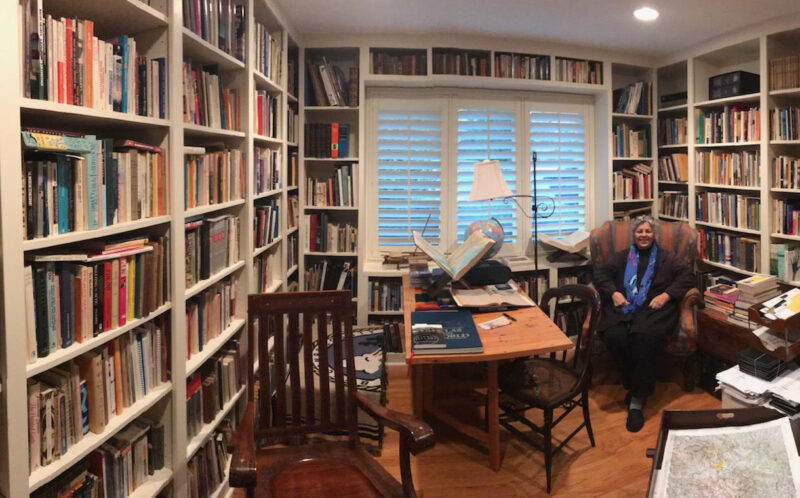 Below is the Commencement keynote address given by Dr. Liz Colton, an Emmy award-winning journalist and diplomat, who also serves as Diplomat and Journalist-In-Residence at Warren Wilson College. You can also read an excerpt of it in Yahoo! News.
To commence. To begin. Greetings, salutations, and admiring congratulations to You, all Warren Wilson College graduating seniors. You are today the main focus of our attention, the pride of all here, the promise for the future. Here at Warren Wilson College in this beautiful place, in these primordial mountains, on this ancient, sacred ground of past civilizations, you are today at the center of our world.  We are here to applaud & encourage you all as you commence now to take your ideals and visions out into the wider world.
This whole world is now "glocal."  What happens locally can resonate globally.  What happens at the global level impacts the local levels.  Our whole world now, the earth, its oceans, outer space, and all peoples are interrelated.  Global and local are intertwined and are glocal.  Today, I am going to encourage, to entrust every one of you, regardless of your future life's paths, to practice "glocal diplomacy" — to serve as citizen-diplomats, each in your own way, in whatever your careers, to promote your idealistic dreams to improve the world, toward peace.
First, with this commencement address, we celebrate you all – honoring all of you students who are graduating today. You are the reason for this great event.  And you, and all students before and after you here, you are the reason for this special Warren Wilson College. Congratulations also to all your many families of every kind, parents, biological and adoptive parents, all children, mentors, friends, teachers, colleagues, and with deep appreciation to President Lynn Morton for your dedication and service, and to Provost Jay Roberts and to all the faculty, administrators and all staff, members of the board of trustees, interim president William Christy, all friends and supporters of Warren Wilson College, all present today to honor you graduating.
All of us here hail you now as 2022 graduates whose college time was full of once unimaginable, life-molding experiences, shocks, challenges, joys, now memories—of a global pandemic, national racial attacks, public exhibitions of hatred, assaults on the U.S. Capitol, national divisiveness, a new war in Europe, new social & cultural revolutions countered by reactive, sometimes violent forces.  We are always living in and molded by our history. You all have an indelible, shared history.
From here together today in this remarkable environment of Warren Wilson College, you will go out into the world, all over, everywhere, in all directions & into various future experiences. Each of you will live different lives, and yet you will be forever connected by your communal time in this place and in this shared era. What then can I suggest to you all as a practice in living no matter what career, whether close to home or around the world, or into outer space?
Diplomacy. I believe diplomacy is among the greatest and most important of all human activities. What is diplomacy? There are many definitions.  The definition of diplomacy I prefer is diplomacy includes all non-violent activity aimed to build peaceful relations between groups of people, to resolve conflict, to work for peace everywhere.
At the beginning of human beings, when we became human, I believe diplomacy and diplomatic activities were among the first kind of behavior that made us human. One group reached out to another group to establish peaceful relations. That was diplomacy, the beginning of diplomacy with the beginning of human beings.  They sent messengers with greetings, orators-speakers, dancers or athletes to perform, invited other groups to share and eat each other's food in shared meals, sent gifts, ultimately to marry, to reach agreements, to establish peace treaties. Diplomacy built humanity.
Now in this new century, this interconnected world again needs "glocal diplomacy." This is a concept I've written and taught about worldwide. Everywhere we need diplomacy that is local, reaching out locally to build positive relations among people, to take local diplomacy to go beyond, and global diplomacy that goes locally and back from the local out to the wider world—"glocal diplomacy" working for peace in all directions.
As an international journalist, and also as a diplomat for both the UN and the US, I've covered diplomacy, wars, and peace.  I saw that it's easier to descend into war. Diplomacy is much more difficult.  Peace is joyful.  Diplomacy is not just for professionals who work for a nation-state or for an international organization.  Citizen Diplomacy is the face of global & glocal diplomacy. Some citizen-diplomats who started locally have even been awarded the Nobel Peace Prize.  We are all world citizens, and we can all practice "glocal" or citizen-diplomacy. Each of you with your ideals in your own ways can become a Citizen-Diplomat promoting peace in the world.
You, Warren Wilson College seniors-now graduates in 2022, have shown that you are idealists who contend with the world you, we all live in, and try to reconcile values with actions.  You care a lot about living with a holistic approach to life—integrating mind-body-spirit. You have been through great trials.  You have survived. You have all demonstrated by being here to graduate today that you appreciate the value of the Warren Wilson College foundational philosophy of work-study-service. These values will stay with you always.
Warren Wilson was also influential in my own life from childhood as I grew up here in Western North Carolina, with my parents arranging for us as children to meet Warren Wilson students, including their many international students, for our family to welcome them often to our house in Asheville. Even though I left my home region to attend college elsewhere, the Warren Wilson experiential philosophy and international educational environment influenced me in my life-to have study and work and service all intertwined for good. I never forgot this special college from growing up nearby and meeting WWC students.  After returning to live back in these mountains after more than 4 decades traveling and working around the world, I immediately thought of re-connecting with the unforgettable Warren Wilson College.
Like you, my college years (though mine a little more than half a century ago), and immediately afterward, were punctuated by life-molding memories in which we as students and recent graduates then were actively involved, like you.  My freshman year our nation's president was assassinated; then the nation's greatest civil rights leader and another national leader were assassinated-murdered; later another president was pushed to resign by exposure of his crimes.  The country's citizens were deeply divided, pitted completely against each other on issues with which I was actively involved—civil rights movement, anti-war against pro-military during a war far away that divided us at home, basic politics, beginning of a new women's liberation movement, the Peace Corps, the early environmental movement, a socio-cultural revolution that radically changed traditional mores, cities were burning, students were gunned down by national guard soldiers.  Yet radical changes were made then and still now, though it never seems enough for those of us, you, all of us who dream of changing the world for good and justice.
We are always, you will be always, in the middle of history, history in the making, facing tumultuous times, sometimes more than others.  Sometimes, living through all these decades, it feels as if history is only cyclical or a slow-moving spiral going up and down, back and forth, with no apparent lasting forward movement.  Still, as Dr. Martin Luther King, Jr., said "Justice prevails and rises through the long arc of history." He also stated, "All progress is precarious, and the solution of one problem brings us face to face with another problem."  Yet, he always spoke inspiringly, encouraging belief that "struggles lead to change."
You, all of you, the distinguished graduates today on 7th May 2022, have shown that you can succeed. You have lived through much that was unimaginable.  Now you are at your new commencement, your new beginning. You believe, as we all here do, that you and we all can build unimaginably better worlds.  You will serve and work and study throughout your life. You are going out into a new world prepared by your unique Warren Wilson College experience to face challenges and to make positive differences wherever you are.
You can be citizen-diplomats in the best sense of the idea of working both idealistically and realistically in "glocal-diplomacy" efforts to bring peace locally and globally. We believe in you, and we believe you as graduates of Warren Wilson College especially can help make our world a better place for all.
Thank you. CONGRATULATIONS!