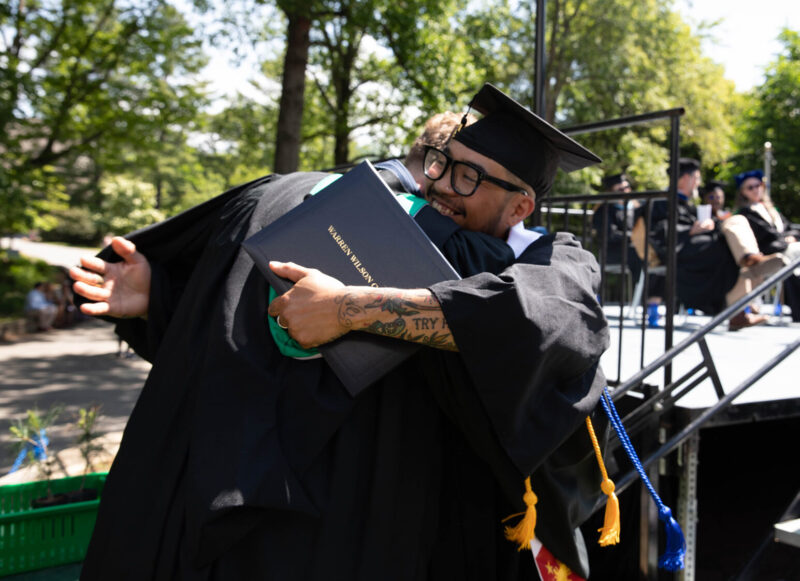 View all photos of Commencement here.
Warren Wilson College celebrated the Class of 2023 at its commencement on Saturday, May 13. More than 120 undergraduate students received their degrees.
As they walked across the stage, the students received white pine tree saplings. A Warren Wilson tradition, the sapling represents the part of Warren Wilson that each graduate will take with them. Just as each graduate leaves the college to go, lay down roots, and grow, the graduate is encouraged to plant the tree away from campus to represent their mark as a Warren Wilson graduate in the greater world.
The commencement ceremony included class remarks from student speaker Paddington Mbumbgwa. He touched on the resilience and perseverance of the Class of 2023 during the COVID-19 pandemic and encouraged his fellow graduates to take risks, and stay true to themselves.
"The world needs your talents and your contributions now more than ever," Mbumbgwa said. "As you step out into the world, remember that you have the power to make a difference in the lives of others, be it climate change, social injustice and environmental injustices. You have the skills and talents, the passion and commitment to dismantle any system of oppression, and break the chains of ignorance on issues that are worthy of our attention as a human race."
Mariah Parker, a 2013 graduate of Warren Wilson College, gave the keynote address. Parker (they/them) is a community organizer with the Union of Southern Service Workers, a rapper (under the stage name Linqua Franqa), and a linguistics scholar. They work for the Union of Southern Service Workers, the Southern arm of the Fight for $15 and a Union workers movement.
During their speech, Parker weaved stories of their own Warren Wilson experience in with a call for "revolutionary patience" to reset the balance of power in favor of the people, end bigotry and injustice, and deliver the world from the climate brink.
"I believe in you, and I feel a sense of joy and optimism to be here in celebration of you that I can only describe as revolutionary," Parker said.
Later in the ceremony, graduating music major Walker Russell performed "In My Life" by The Beatles, with Instructors of Music Jason DeCristofaro and Natalya Weinstein Miller, and with Chair of the Music Department Kevin Kehrberg.
An awards ceremony took place on Friday, May 12. It included recognition of Warren Wilson's top seniors, faculty and staff honors and awards.
Paddington Mbumbgwa received the Alton F. Pfaff Award, the college's highest honor given to a graduating senior. Dailah Mial received the Algernon Sydney Sullivan Award, which is presented each year in recognition of a graduating senior's personal character, integrity, and service to others and their communities.
Chair of the Education Department Annie Jonas and Manager of Biology and Environmental Studies Departments Jill Arnold received teaching excellence awards.
Some facts about the 2023 graduating class:
Total number of graduating seniors:
98 degrees conferred in May 2023
20 degrees conferred in Dec 2022
For a total of 118 this academic year
Graduates represent:
23 states
5 countries
24 majors
With the top majors Psychology, Art, Creative Writing, Environmental Science, Business, Social Work, and Biology
13% were Psychology majors (top major for this year's grads)
Graduates plan to go into the following fields:
Social Work
Professional craft in clay
Medical School
Marine Biology
Master of Library Sciences
Neuroscience
at these graduate schools:
University of North Carolina, Chapel Hill
University of Illinois, Chicago
University of Miami
They are already employed at places such as:
City of Asheville
Highlands Biological Station
National Park Service
Buncombe County
Ivy Street School
Verner Center for Early Learning.