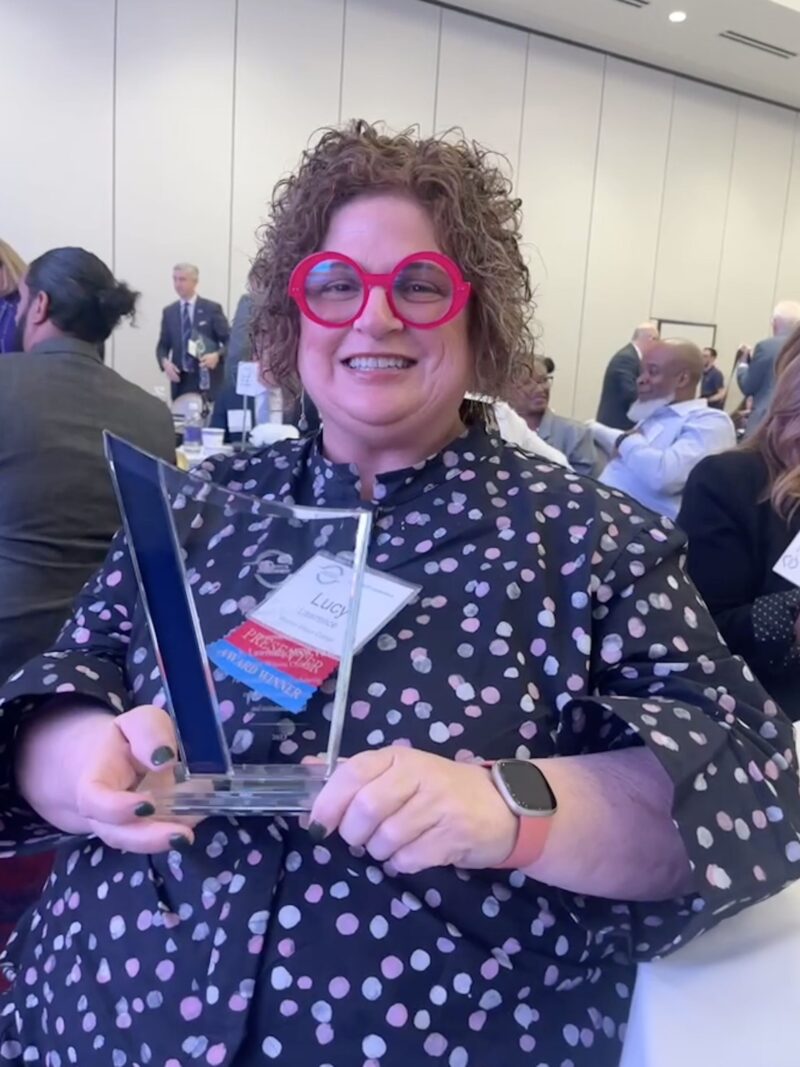 Dr. Lucy Lawrence of Warren Wilson College received this year's Engaged Faculty Award from North Carolina Campus Engagement (NCCE). The award recognizes an outstanding faculty member who demonstrates excellence in community-based teaching, research, and scholarship, leadership of campus-wide efforts, and development of strong partnerships with the community.  
Lawrence has taught Social Work at Warren Wilson for 20 years, and has served as the head of the Social Work department for 12. During that time she revitalized Inside-Out, a program that brings incarcerated and Warren Wilson students together to learn inside a prison, and she designed 13 study abroad courses, most recently taking students to Cuba to examine the ways the country has developed a safety net to address current societal issues.
Throughout her tenure thousands of students have experienced Lawrence's drive to create positive community change, communicate effectively across cultures and identities, and educate students in ways that are holistic, compassionate and effective. In her leadership of the Social Work department, she has built a developmental model of community engagement throughout the curriculum that prepares majors for their required practicum semester working at local nonprofits. Not only have students and community partners benefited, it has also served as a best-practices model to other departments for embedding meaningful community engagement into curriculum and major design. 
Lawrence has served on the Community Engagement Advisory Committee for 14 years and acts as a liaison between Warren Wilson's Office of Community Engagement and faculty to help her faculty colleagues invest in community engagement and build service-learning courses. Lawrence has developed and taught six designated Service Learning courses within the Social Work major and the Global Studies department, in collaboration with community partners. She has also developed and taught 13 study abroad courses that engaged students in developing their cross-cultural communication skills, their critical awareness of civic identity, social location, and ethics of engagement in these diverse contexts. Lawrence won an international award in 2017 from the Go Abroad Foundation for the most innovative course design for her course to Cuba entitled "Appalachia to Cuba: Intercultural Approaches to Social Welfare and Education."
In 2016, Lawrence began teaching courses for the Inside-Out program at Warren Wilson College, in which students get an in-depth look at the prison system by taking a course behind prison walls  alongside inmates at nearby Western Correctional Center for Women (WCCW). A priority of the program is to prepare the women for re-entry into society, providing them with education and skills in an effort to reduce recidivism. WCCW is the only prison facility in North Carolina to offer Inside-Out, which provides a unique opportunity for both incarcerated and outside students to learn more about different generations, environments, and human behavior. Lawrence has taught five classes as part of this program, and in 2021 she was selected as the Inside-Out Director. In this role, Lawrence has worked fiercely to reestablish the program after a two-year hiatus due to the pandemic. Under her leadership, the program has been restored, and is stronger than ever.
"Lucy has been a fierce advocate for community engagement and has driven our college to new heights in this realm," said Anna Welton, Associate Dean of Community and Global Engagement at Warren Wilson. "She is a force for change, a pillar of our college's commitment to social justice and community engagement, a fountain of ideas when it comes to innovative programming for social good and a north star for many of us at the college when we seek support and guidance in our work to further the College's mission."
Lawrence received her BS in social work and sociology from UNC-Greensboro, her MSW from Boston University, and her Ph.D. from the University of Alabama.
North Carolina Campus Engagement recognized Dr. Lawrence during its annual Pathways to Achieving Civic Engagement (PACE) conference hosted at High Point University earlier this year. Additionally, Lyn O'Hare, Abbie Ervin '24, Jenna Onderko '25, and Inside Out alumna, Shaheedah Jackson and Lawrence presented at the conference about the Inside Out program.