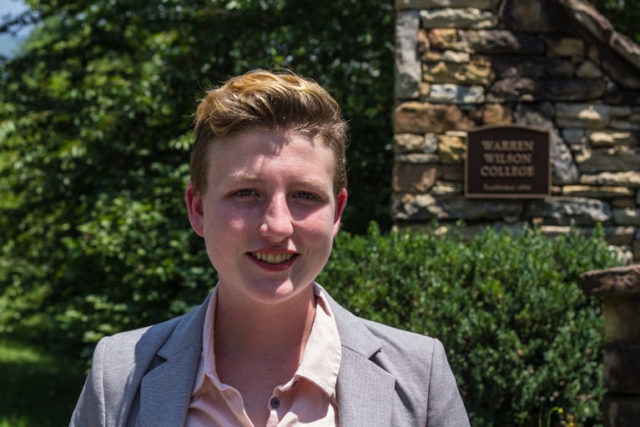 Shortly after the North Carolina primaries wrapped and before nominees or even presumptive presidential nominees were crowned, Warren Wilson College was entering a different kind of election cycle. New trustees were being elected to the College's board of trustees, but in this case, students were voting for their peers.
Since 1997, the board has welcomed a student to an ex-officio seat at the table. Student trustees represent their peers and give fellow board members insight into the day-to-day campus happenings. For the first time, two students—Ayla Rand, a senior from Newton, North Carolina, and Casey Berardi, a junior from Aston, Pennsylvania—have been elected to the board.
"Ayla Rand and Casey Berardi join a long line of student trustees who have been important voices of student concerns and perspectives," said Bill Christy, chair of the Warren Wilson College Board of Trustees. "The board has appreciated having the student input and looks forward to having two student representatives for the first time.  We see this as an important step in trying to develop more depth with the student trustees to allow them to serve two-year terms."
In 2016, the board of trustees' bylaws were changed to allow for two student members serving staggered two-year terms, rather than a single student serving for one year. The change, which goes into effect for the 2016-17 academic year, seeks to "give students an opportunity to engage more deeply on the board – to learn the issues and contribute to deliberations," according to President Steve Solnick.
As Berardi becomes the first two-year student trustee, Rand will round out her senior year as the last to serve in the traditional one-year term. "I think I bring perspective that other students might not bring," Rand said. "I'm a queer woman. I've lived in poverty. I've been a part of nearly every student group. I've experienced a lot of what students on the outskirts have experienced."
While not a requirement, previous leadership roles on campus tend to be an unofficial prerequisite for the student trustee position. Before being elected in April, Rand served as co-president of the student government association, residence director for campus housing, junior class representative to the College Alumni Board, and co-founder and vice president of the Warren Wilson College Democrats.
"Now that I'm in College, I believe I have to make the most of my experience because other people are paying for me to be here," she said. "I want to continue my education, so I have to continue to do great things. I do it all because I see the problems that we have in the world, and I have experienced some of them. I want to be able to change those problems that I see and have experienced. I want to put my full self into whatever I do."
Warren Wilson College operates under shared governance, which consists of the board of trustees, the president, faculty and staff forum, and the student government association. By linking all campus constituencies together, the College seeks to provide a balanced structure for planning and coordinating activities, addressing policy questions, undertaking program development, ensuring effective communications and solving problems.
The term "demystifying the trustees" became a regular saying across campus when the student trustee role was created in the late 1990s, according to Elizabeth Batson, a 1999 graduate and one of the first student trustees. She believes students bringing issues to the trustee's attention is "best" for the College. "You don't face contention," she said. "Instead, there are people willing to listen and balance students concerns with a sound fiscal policy.
"Board members are not on campus every day. They're business leaders and we're lucky to have their expertise, but they don't know the day-to-day particulars. Not only did I help give them insight, but now they had a student to take away the mystery of who they were and what they were doing."
In addition to Rand and Berardi's new roles on the board of trustees, alumnus Bill Christy was named chair effective July 1. Elisa Massimino, president and CEO of Human Rights First, and Terry Bellamy, former Asheville mayor and director of communication with the Housing Authority of the City of Asheville, are also new members. Joining in an ex-officio capacity is Alumni Board President Dennis Thompson. Retiring board members Terry Swicegood and Fran Whitfield along with ex-officio members Mike Nix and Khaetlyn Grindell completed their service to the board at the end of June.