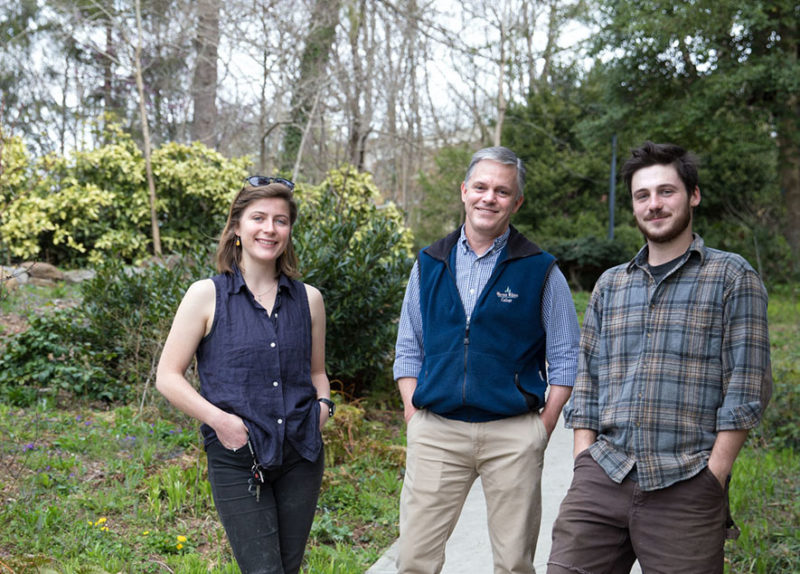 Asheville, NC – April 6, 2018 – NASA is known for space exploration, but their scientists also study Earth with satellites. Two recent Warren Wilson College alumni and one current student completed NASA DEVELOP research fellowships this spring to create two new tools to prevent deforestation and wildfires by detecting seemingly insignificant things: tiny beetles and melting snow.
Recent graduate Caroline Jahn '17 and current student Danny Lucas '18, both double majors in chemistry and environmental studies, worked at the National Centers for Environmental Information (NCEI) in Asheville to program a new tool that uses daily satellite data to measure snow melt in Alaska and identifies areas of heightened wildfire risk. Alumna and biochemistry major Larissa Robinov '17 worked at the Mobile, Alabama NCEI location to develop a new formula using satellite data for early detection of bark beetle infestations in southeastern forests.
"What drew me to DEVELOP is that we would be working with community partners who have specific, real-world problems that do not have solutions, and we were tasked with solving those problems," said Jahn, who was named project lead for the Alaska team. All three students already had ample experience solving problems for community partners, logging hundreds of service hours with the National Park Service and other agencies to fulfill their community engagement requirements at Warren Wilson.
Alaska has vast areas that remain unmonitored due to its large landmass and low population, and the state's climate is changing two times faster than the world average, making historical data unreliable for prediction. "There was a tangible result to hand off to the fire managers in Alaska in the end. The tool that we developed produces maps of fire risk areas and an actual list of areas to check – a plan for the fire managers to follow each day," Jahn explained.
The Alabama project had immediate applications as well. "I was getting up every day to work on something that would quickly save many trees from a very real and devastating threat. These tiny insects kill forty-five times more trees than wildfire does. My work will have a tangible and significant effect on forest preservation," Robinov said.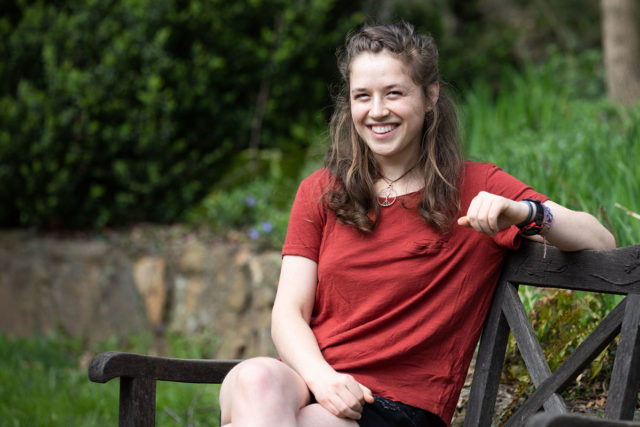 Robinov knew from previous experience working on the Forestry Crew that bark beetles rapidly destroy large swaths of forest, and the dead trees increase wildfire risk, compounding the problem. The US Forest Service's current detection methods are often too late for effective intervention. They needed a new formula to detect the beetles much earlier using color and wavelength data to identify stands of trees exhibiting the early signs of a beetle outbreak.
"My science advisor on the project has worked in the field of remote sensing for decades," Robinov said. "To work side by side with someone so involved and influential in the early evolution of the field was particularly inspiring and incredibly valuable."
The participants learned about the NASA DEVELOP program through their data science, Geographic Information Systems (GIS), and computer science courses at Warren Wilson. GIS professor David Abernathy, Ph.D., knows that Warren Wilson better prepares students for work in the field. "Our students do not simply learn how to use the standard tools, they learn how to look under the hood, get dirty, and dig into how it works and how to fix it when it doesn't work perfectly."
"My professors at Warren Wilson prepared me well for scientific research," Robinov said. "They taught me to be questioning – to know what to question and how to question, to be both critical and open-minded."
The NASA fellows all cited their experiences in the Warren Wilson College Work Program as being fundamental to their success as well. "On the farm crew, if we got a call at 9 p.m. from public safety that a calf was out of the fence, we had to go deal with that calf. It couldn't be put off until tomorrow! There is a responsibility and accountability at Warren Wilson to take pride in your work, and we carried that over to NASA DEVELOP," Jahn said. Both Jahn and Lucas worked on the Farm Crew.
"I had originally planned to go to a school with great name recognition, but I came to Warren Wilson in the end," Jahn said. Now, straight after graduation, Jahn is working for NASA. That's a pretty impressive name.
Further information:
Warren Wilson College's Ecological Forestry Program
Development of a Snowmelt Monitoring Tool Using NASA MODIS and NOAA Climate Data Records to Aid Wildfire Managers in Alaska
Early Detection of Bark Beetle Outbreaks in the Southeastern United States Using Earth Observations
National Centers for Environmental Information (NCEI), part of the National Oceanic and Atmospheric Administration (NOAA)